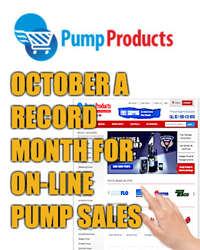 We're moving away from shipping from the manufacturer. Our goal is to stock every pump and part that we advertise.
Wallington, NJ (PRWEB) October 29, 2014
Pump Products, a New Jersey-based, on-line retailer of hydronic pumps and parts, reported record sales in October. The company credits an extensive stock of plumbing, heating and HVAC pumps, quick delivery and a lowest price guarantee with the commercial milestone.
"We've been steadily increasing sales since we launched in January 2014," says General Manager Ed Drejman. "But October has been exceptional." Drejman counts circulator pumps for heating systems, recirculating pumps for domestic hot water systems and furnace condensate pumps among October's top-selling items.
"We supply hydronic pump systems and quick delivery is key," says Product Expert Fred Hettinger. "Many of our customers go without water or heat until their order arrives. With 520,000 square feet of warehouse space at our disposal, we can stock the HVAC pumps by Armstrong, Bell & Gossett, Taco and other leading manufacturers that smaller suppliers have to order and wait for. We get them out the door the same day and when temperatures start to drop, that translates to sales."
For Hettinger and his team, the high cost of stocking items is mitigated by high turnover and minimal returns as a result of sizing and configuration assistance by a trained on-line sales staff.
"We're not just an e-commerce store with customer service reps unfamiliar with the products we sell. Our help lines are manned by application engineers trained to size and configure residential, commercial and industrial-grade pumps by Armstrong, Bell & Gossett, Grundfos, Taco and dozens of other leading manufacturers to exact specifications in a wide range of applications."
By filling the gap between manufacturer and product with a team of pump specialists who expertly guide customers through the process of selecting the best possible pump to suit their needs, Pump Products is building a reputation as the on-line source for expertly-sized, premium pumps that minimize resource waste. By undercutting large retailers with an interactive Lowest Price Guarantee -- any buyer who can document a lower price on a purchased item within 30 days receives a $110% refund on the difference -- the company is gaining clicks in discount pump market.
A mid-year website revamp and the addition of several major pump lines including AMT Engine Driven Pumps, Boshart Guages and TrunkPump Engine Driven Pumps are among the steps the company has taken to broaden it's appeal to residential and commercial customers and further increase sales.
"We're moving away from shipping from the manufacturer. Our goal is to stock every pump and part that we advertise," says Ed Drejman. "We hope to double sales next year."
Company Information
Pump Products is an online pump retailer offering an extensive selection of pumps and repair parts by leading manufacturers including Armstrong, Bell & Gossett, Taco, Berkeley, Hydromatic and BJM to residential, commercial and industrial customers. For more information, visit Pump Products at http://www.pumpproducts.com or call 1-800-429-0800.