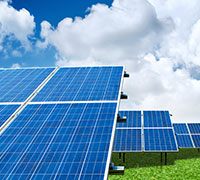 Collectively, the solar industry will be more open for consumers interested in exercising cheaper options for buying and leasing in 2015
(PRWEB) November 05, 2014
The steady price drop and forward leaps in technology for solar power panels is motivating plenty of consumers to want to incorporate them as an investment to their home. Surprisingly, even with ten years of constant price drops, the market is still filled with homeowners who can't afford buying solar power systems. This is why in the last year many solar providers have began to include leasing as a cheaper option on their energy menus. According to the Solar Energy Industries Association (SEIA), the second quarter in 2014 shows a drastic decrease in installation costs that are beneficial for people wanting to both buy and lease solar panels.
"The average price of a residential PV installation in Q2 2014 was $3.92/watt, 41% lower than 2010."
Since such statistics emerged, thousands of consumers are still considering buying as a viable option to use solar energy to power their homes, however the lower installation costs make it easier for more solar companies to offer leasing options to consumers as well.
According to the Solar Energy Industries Association (SEIA), the California solar industry has been experiencing a drop in prices that is beneficial for both types of consumers who want to buy and lease.
"Average installed residential and commercial photovoltaic system prices in California have fallen by 10% in the last year. National prices have also dropped steadily — by 8% from last year and 39% from 2010."
The lower installation prices are good for those wanting to buy a system. Additionally, it makes it more affordable for those wanting to lease.
Solar panels are commonly bought these days by homeowners through financing options. When someone buys a system, they enjoy lower bottom line costs supplemented by more available tax credits and cash back rebates for ownership. Owning a system means you can enjoy returns of up to 30% a year on your investment, and once it pays itself off, you enjoy free electricity forever.
Companies who provide leasing often give you automatic savings with a locked in 20 year fixed rate 15% to 30% lower than your current monthly electric bill. Most companies offer all this with a free solar installation for zero dollars down upfront. One advantage to leasing is you are not the owner and are not held responsible for repairs and maintenance of your system.
Versatile solar companies like Solar Power Express facilitate financing and leasing of solar panels directly through them. They file all necessary paperwork in order for customers who finance to receive their maximum available incentives. They also provide free monitoring and repairs for customers who choose to lease. Expert solar representative Mr. Oron from Solar Power Express explains their theory on providing these extra services.
"We want those who choose our company to have a smooth transition to solar power. Our system financing is followed by filing paperwork for rebates, and our system leasing is followed by free monitoring and maintenance," explains Oron.
Collectively, the solar industry will be more open for consumers interested in exercising cheaper options for buying and leasing in 2015. Here are three quick facts that solar expert Mr. Oron recommends to analyze when considering buying VS leasing in the coming year:
Buying:
Tax Rebates & Benefits
Annual Returns on Investment
Add Quick Resale Value to Your Home
Leasing:
Install Your System With No Money Down
20 Year Fixed Rate Lower Than Current Utility Bills
No Worries on System Maintenance or Repairs"
More information on the difference between buying and leasing can be found at http://www.solarpowerexpress.com/buy-vs-lease/