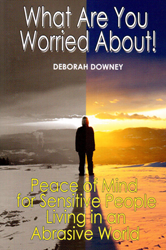 Sacramento, CA (PRWEB) October 29, 2014
Deborah Downey, a certified life coach with two and a half decades of experience, recently published "What Are You Worried About!" – an easy-to-follow guide for readers seeking permanent lifetime healing, which also serves as inspiration for mature singles.
"There are more singles than ever age 40 and older that are looking for love, yet many are in an insecure mindset in which they may tell themselves they're unusually old for dating," says Downey, a dating coach who also has several years of experience as a chemical dependency counselor.
"This book provides accessible insight and inspiration for mature singles. We're living in the 21st Century and we should be used to the idea that there are older single adults who want and deserve true love."
Downey found romance later in life after her husband passed away. Despite living with multiple sclerosis for 25 years, she says, she's happy and fulfilled.
"What Are You Worried About!" has several helpful segments, including "My Seven-Step System: How to Finally Find the Love of Your Life," based on Downey's years of relationship coaching with men and women. Each step builds upon the last, and is designed to guide you to turn your dreams of partnership into reality.
In addition to providing inspiration for mature singles, the book offers techniques to transform daily worry and negativity into productive thinking. It gives readers the tools to improve relationships with your friends, family, and business associates; become your own best ally; and actualize your dreams into reality.
The broader self-help approach includes "25 Ideas That Will Forever Change Your Life" and "Life How-to's" that focus on self-improvement by discussing self-care, confidence, learning how to connect and trust in your own highest power, letting go of shame and resentments, and becoming open and available to life.
"Deborah has been a beacon of rare light in my transformation from fearful to fearless since she began coaching me in 2002," says Paige Thomas, one of Downey's clients. "I am an entertainment professional in film production, divorced, a single parent who has experienced depression and loss. Deborah has guided me through tough times with all these life issues and transitions and coached me to see challenges as opportunities for growth. I have experienced hope, change, and joy by working with her. I recommend her to anyone who hopes to gain insight into themselves, improve relationships, and wants to think outside their comfort box and make wise career advancements."
About Deborah Downey
Deborah Downey's experience spans 25 years of recovery in various 12-step programs around the country. Holding certifications as a professional life coach and as a chemical dependency counselor, Downey has dealt with addiction in its various forms, both as the child of alcoholic parents and as a confidant for others. In her self-help book, "What Are You Worried About!" (http://www.coachdeborahdowney.com/), Downey, who has multiple sclerosis, details a proactive approach to training one's mind to think positive.