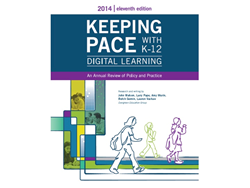 John Watson, author of the annual Keeping Pace report, will be joined by a panel of K-12 online and blended learning students from across the country who personify the digital education landscape detailed in the report
Baltimore, MD (PRWEB) October 28, 2014
The 2014 Keeping Pace with K-12 Digital Learning report will be released by Evergreen Education Group on Monday, November 3. Join report author John Watson on release day for a LIVE web press conference to review the latest e-learning news and trends from this definitive source of data on K-12 digital learning in the U.S. Joining John will be a panel of K-12 online and blended learning students from across the country, who personify the digital education landscape detailed in the report.
DATE: Monday, November 3, 2014
TIME: 11:00 AM–12:00 PM Pacific; 1:00-2:00 PM Central; 2:00-3:00 PM Eastern
FEATURING:

John Watson, Founder, Evergreen Education Group - study author
Mickey Revenaugh, Co-Founder and Executive Vice President, Connections Education - moderator
e-learning Student Panelists:
-- Sterling Griffith, Texas resident, student, Texas Connections Academy@ Houston
-- Rocki Hudson, Indiana resident, student, Nexus Academy of Indianapolis
-- Macarthur Kim, Maine resident, student, Maine Connections Academy
-- Christina Owens, Minnesota resident, student, MTS Minnesota Connections Academy
-- Jordan Windle, North Carolina resident, student, International Connections Academy
WHY: Keeping Pace, now in its 11th year, is the definitive source for K-12 digital learning statistics and trends
Ask John Watson and students live questions; get comments, quotes
Gain real-world insight into the 2014 digital learning landscape, directly from students around the nation -- with a wide range of personal experiences and reasons for engaging in e-learning
REGISTER: Register to participate in the live web press conference at:
http://w.on24.com/r.htm?e=876526&s=1&k=F7B29A34002BA33FDA2A1DA4D3CDB17B
Registrants will receive a confirmation email with a link to access the live web press conference.

Dial call-in line: (888) 514-3311
Provide Conference ID to Operator: 24899005
CONTACT:
Sandy Burke
Athena Public Relations, for Connections Education
203-912-9490
sandy(at)athenapr(dot)com