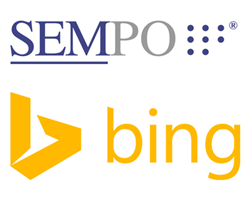 It's crucial for digital marketers to stay up-to-date on the latest digital marketing tools and techniques.
TORONTO, ON and MONTREAL, QC (PRWEB) October 28, 2014
Digital marketers and search marketing professionals in Toronto and Montreal are invited to attend two events in November presented by Search Engine Marketing Professionals Organization (SEMPO) along with Bing Canada, Acquisio and gShift. These educational events feature leading-edge insights and trends from Canada's top entrepreneurs and search marketing leaders.
"Digital marketing technology and tactics are evolving at lightning speed and Canada has impressive thought leaders in paid search, social media and content marketing," says Krista LaRiviere, Ontario Chair of SEMPO Canada and Director of SEMPO.org. "The SEMPO Toronto and Montreal events will feature the best and brightest thought leaders from owned, earned and paid digital media."
Bing Canada, the events' major sponsor, is dedicated to SEMPO's focus on education and standards in search marketing. Andrew Yang, Search Evangelist at Bing says, "It's crucial for digital marketers to stay up-to-date on the latest digital marketing tools and techniques. The content that will be delivered in both Toronto and Montreal will be extremely valuable."
Toronto: November 12th from 5:15 to 8:30 at the Intercontinental Hotel (#SEMPOYYZ)
The first event entitled: "The Digital Marketing Ad Tech Ecosystem in Canada" will take place in Toronto on November 12th and is sponsored by Bing, gShift and Acquisio. The ecosystem in Canada is abundant with innovative companies and entrepreneurs. The evening will feature presentations from Bing and Acquisio followed by a panel of entrepreneurs representing Atomic Reach, InNetwork and SqueezeCMM all innovators in Social Media and Content Marketing. The Toronto event is free to all attendees. Seating is limited.
Register & Read more: http://www.sempo.org/events/event_details.asp?id=509393#ixzz3GzsCdExO
Montreal: November 13th from 3:00 PM to 6:30 PM at the Notman House (#SEMPOMTL)
The second event entitled: "2015 SEMPO Digital Advertising Outlook" will take place in Montreal on November 13th and is sponsored by Bing, gShift, Acqusio, PlanningMedia, JMMA, Google and TubeMogul. The event is a joint initiative from SEMPO, Planning Media, and The John Molson Marketing Association. We are very happy to welcome you to the 2015 Digital Advertising Outlook. Whether you are an advertiser, an agency, or a Marketing Student, this conference will cover a lot of great, relevant and useful digital advertising content.
Register & Read more: http://www.sempo.org/events/event_details.asp?id=514908&group#ixzz3GztWYGTc
About SEMPO
SEMPO is a global non-profit organization serving the search and digital marketing industry and the marketing professionals engaged in it. Its purpose is to provide a foundation for industry growth through building stronger relationships, fostering awareness, providing education, promoting the industry, generating research, and creating a better understanding of search and its role in marketing. SEMPO includes thousands of professionals across 50 countries. The organization's mission is to represent the common interests of companies and consultants worldwide and provide them with a voice in the marketplace. SEMPO's education and outreach initiatives are funded in part by Google, Baidu, Digital Brand Expressions and WordStream and supported through partnerships with SES, OMS, and MediaPost.
For more information or to join the organization, visit http://www.SEMPO.org/
For More Information Contact:
Krista LaRiviere, Chair SEMPO Canada
krista(at)gshiftlabs(dot)com