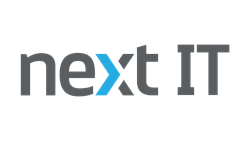 With Alme Health Coach, we're fundamentally changing the way chronic diseases are managed in order to make the largest overall impact on population health.
Spokane, Wash. (PRWEB) October 28, 2014
Next IT, developer of Alme, the world's most trusted virtual assistant platform, today launched Alme Health Coach, a purpose-built product for chronic disease management. The product includes a human-emulated virtual health assistant that guides patients during their time between doctor visits as they manage chronic conditions—encouraging them, through coaching and tracking, to be adherent to their health management plan. Alme Health Coach becomes personalized for each patient and can be configured for specific diseases, medications and treatments, providing patients, doctors and caregivers with trusted information and an effortless experience.
One of the leading issues in healthcare is non-adherence to treatment plans and prescription drug regimens. It's caused by a variety of factors, including perceived and real barriers, procrastination, side effects and cost. Between doctor visits, Alme Health Coach aims to serve patients as a trusted companion and resource—strengthening the communication between doctors, patients and caregivers and empowering individuals to manage their chronic diseases with confidence and accuracy. This improved communication gives doctors and caregivers a deeper understanding of why a patient is not following their treatment plan, helping remove barriers to adherence.
"The cost of medication non-adherence in this country for chronic diseases is $317 billion per year. We believe it's possible to drive down that number aggressively," said Fred Brown, Next IT Founder and CEO. "Through an intelligent product proven to change human behavior, Alme Health Coach will help patients with their treatment plans, improving adherence and overall wellness."
Alme Health Coach is available to doctors, payers and pharmaceutical companies to help them improve the patient's journey throughout the course of their treatment plan. The product leverages Next IT's sophisticated artificial intelligence technology to scale a doctor's consultation, giving the patient concierge-like care from the convenience of their smart device.
"Adherence through ongoing engagement is the key to improving how care is delivered. Without a great experience for the patient, you can't expect meaningful results," Dr. Thomas Morrow, Chief Medical Officer at Next IT, said. "With Alme Health Coach, we're fundamentally changing the way chronic diseases are managed in order to make the largest overall impact on population health."
Each virtual health assistant built on Alme is designed to address a specific chronic disease, engaging the patient to actively manage their health and improve their wellness. With its launch, Alme Health Coach will first address two of the most complex chronic conditions: hemophilia and multiple sclerosis. These two conditions require intricate treatment plans that patients often find difficult to follow correctly. Since the product is based on Next IT's healthcare domain model, the company can build new health assistants for any condition, configuring features and capabilities as needed, in less than three months.
Features and benefits of Alme Health Coach include:

Human-Emulated Virtual Health Assistant – builds a trusted relationship with the patient through personalized, ongoing dialogue
Health Management Plan Interface – enables personalization of care for each patient, their provider and care team, including friends and family
Patient Activation – helps motivate and personalize interactions throughout the patient journey
Motivational Mentoring – combines a variety of approaches from behavioral psychology
Medication and Symptom Coaching, Tracking and Reporting – encourages adherence and educates during teachable moments
Disease State Knowledge – equips Alme Health Coach with a deep understanding in order to deliver the right information when the patient or caregiver needs it
Global Knowledge Architecture – enhances the patient's trust and overall experience by accessing appropriate external content
For more information about Alme Health Coach, please visit http://www.AlmeHealthCoach.com/
About Next IT
Founded in 2002, Next IT has been at the forefront of virtual assistant technology for over a decade. Alme, Next IT's flagship product, is the world's most trusted virtual assistant platform. Customer experience leaders including Aetna, Alaska Airlines, Amtrak and the U.S. Army all rely on Alme to provide their customers with remarkable experiences every day.
In 2013, Next IT launched Alme for Healthcare, a revolutionary new platform that delivers advanced virtual assistant capabilities to healthcare-specific environments across mobile, web and chat interfaces.
Next IT is proudly based in Spokane, Washington. For more information, please visit: http://www.NextIT.com