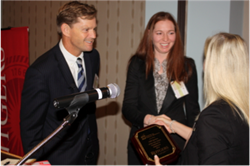 Piscataway, NJ –
The Center for Dermal Research at Rutgers Univ (PRWEB) October 29, 2014 -- Galderma is a company that is committed to delivering innovative medical solutions to meet the dermatological needs of people throughout their lifetime while serving healthcare professionals around the world. They have been committed to dermatology for 34 years and counting!
Galderma was presented with the CDR Sponsor of the year award at this year's Innovation in Dermatological Sciences Conference. The sponsor of the year award is presented to the company that has provided the most support to the Center for Dermal Research that year. This year, Galderma sponsored the CDR and the Innovations in Dermatological Sciences Conference.
To learn more about the CDR please visit us at http://www.centerfordermalresearch.org or go to http://www.njbiomaterials.org/center_dermal_research.htm
The Center for Dermal Research (CDR) is part of the New Jersey Center for Biomaterials (NJCBM) at Rutgers University. Established in 2010, by Dr. Bozena Michniak-Kohn, the CDR is dedicated to linking industry, academia and government through research, collaboration and training in the pursuit of new innovations in dermatologic science and applications. Members of the CDR support the Center's activities and include many companies and individuals from pharmacopeia, cosmetics, skin tissue engineering and other skin-related interests. Bozena Michniak-Kohn is a Professor of Pharmaceutics at the Ernest Mario School of Pharmacy and is Director of the Center for Dermal Research (CDR) and Michniak Laboratory for Drug Delivery (LDD) of the NJ Center for Biomaterials (NJCBM), as well as Project Leader, FDA Liaison and Steering Committee Member of the $15M NSF Engineering Research Center (ERC). Previously (2000-2005) she was at the Dept. of Pharmacology & Physiology, UMDNJ-Newark. She obtained her Ph.D. in Pharmacology in 1980 from Leicester Polytechnic, Leicester, U.K now renamed the DeMontfort University. Postdoctoral experience was gained with Profs. N. Bodor (University of Florida) and B. Barry (University of Bradford, U.K). She returned in 1986 to the U.S. as Assistant Professor, College of Pharmacy, University of South Carolina-USC. In 1998 she became tenured full Professor and Director of the Transdermal and Topical Drug Delivery Laboratory at USC.
Media Contact:
Louli Kourkounakis
(848) 445 9614
cbmfrontdesk(at)dls.rutgers(dot)edu