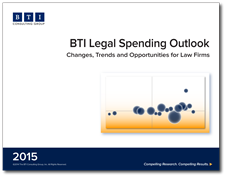 The legal market has evolved to a point where each market opportunity demands a different strategy.
Wellesley, MA (PRWEB) October 29, 2014
After shrinking in 2013, the US market for outside counsel services grows in 2014 to $102 billion. This growth is expected to last through 2015. According to The BTI Consulting Group's brand new research with over 300 corporate counsel at the world's largest buyers of legal services, GCs are planning to increase spending in 15 of 17 practice areas. 8 practices in particular are considered to offer above-average market growth and access to premium rates, including cybersecurity / data privacy. This quickly growing area promises 2 to 4 mega-cases each year and an abundance of large, complex matters.
Global organizations continue to increase their US legal spending, as well. Companies based outside the US are in growth mode providing a steady stream of transactions, labor and employment issues, regulatory conflicts, and strategic IP issues—all originating in the US legal market. More than 50% of the law firms serving these clients are outside the Am Law 50.
"The legal market has evolved to a point where each market opportunity demands a different strategy," comments Michael B. Rynowecer, President of The BTI Consulting Group. "Law firms can find opportunity in every market—it's just a matter of knowing how to pursue them."
Continues Rynowecer, "We've seen law firms with their finger on the pulse of the market already starting to change their strategies."
BTI conducted more than 300 independent, individual interviews with CLOs and General Counsel at Fortune 1000 companies and large organizations this year. Now in its 14th year, BTI conducts the only continuous benchmarking market study of corporate counsel worldwide. The complete analysis is available in BTI's new study, BTI Legal Spending Outlook 2015: Changes, Trends and Opportunities for Law Firms, found here: http://www.bticonsulting.com/legalspending.
Find more information about this and other compelling research at http://www.bticonsulting.com or contact BTI at 617.439.0333. BTI is the undisputed leader in providing high-impact strategic client research to professional service firms and their clients.