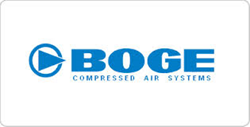 Powder Springs, Ga (PRWEB) November 20, 2014
BOGE Anlagenbau GmbH und Co. KG, based in Bielefeld, offers base frames and container solutions. There are many reasons why customers opt for a container compressed air station, ranging from lack of space to flexibility of installation location. "Customers choose a compressed air container if they do not want the compressors on the shop floor, their compressor room is too small or they simply forgot to plan for a compressed air system," explained Dieter Richter, CEO of BOGE Anlagenbau. A container station can also be used for short-term solutions; for example for installing on building sites.
Tailored to compressed air requirements and geared to maximum energy efficiency, the experts at BOGE Anlagenbau deliver customized plug-and-play solutions: "We do all the cabling, pipework and ducting inside the container - all that remains to be done is to lay the electricity cable and the compressed air line," said Richter. All containers are fitted with features like fire extinguishers, access door with panic lock, emergency exit light, lighting and working socket. BOGE is going to manufacture its own container for lease this year, so customers can avail of BOGE air during compressed air shortages as well.
About BOGE Compressors
BOGE America is the United States of America Daughter Company of BOGE International GmbH based in Bielefeld, Germany.
BOGE manufactures a comprehensive range of oil lubricated and oil free screw and piston compressors used by all sectors of industry to supply compressed air for a wide range of manufacturing processes. The company also supplies a complementary range of filters, dryers and condensate management equipment. The product is sold and serviced through a dedicated network of over 50 distributors in North and South America. For further information, please visit the company's website at http://www.boge.com/us.