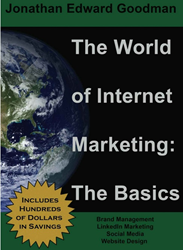 "Online social brand marketing is critical to the future of small business." - Jonathan Goodman
Burlington, VT (PRWEB) October 28, 2014
Jonathan Goodman, president of Halyard Consulting, is scheduled as one of the speakers at the 2014 Vermont Web Marketing Summit, which is held on Thursday, November 13, 2014. The session is entitled Embrace the Emerging Marketing Opportunities. It is part of the Social Track sessions and is one of 11 sessions scheduled for the summit.
The Vermont Web Marketing Summit is held each year in Burlington, Vermont. Guest speakers like Goodman provide valuable information to online marketers about the latest trends. Attendees have the opportunity to share the challenges they face and learn from each other and the experts. The summit is now in its fourth year and has grown quickly with more than three times the number of attendees from its first sessions in 2010.
The summit features speakers who are experts in their fields and runs from 8:30 am to 4:00 pm. Goodman will be speaking at 2:00 pm with a 45-minute session. The topic of this session will be on social networking and how to build an audience. Goodman will focus on Facebook and LinkedIn and show businesses how they can utilize these two resources along with other networks to increase their online exposure and win new business.
Goodman will include statistics and case studies to show the growth of mobile, especially as it relates to social networking. For those who are interested in learning more from Goodman's wealth of knowledge, he will be giving away copies of his book, The World of Internet Marketing, during his session.
This is not the first time Goodman has been a speaker with the Vermont Web Marketing Summit. He spoke at the conference in 2012. His topic that time was on SEO efforts that matter. In that session, he explained how Google was changing what was considered approved SEO efforts and what was not acceptable. He provided information on the technical metrics that marketers should use to ensure they were following Google's strict and ever-changing guidelines.
Anyone who is interested in attending the 2014 summit can register online at Vermont Web Marketing Summit. In addition to numerous sessions with knowledgeable speakers, attendees enjoy a valuable opportunity for networking with peers and experts within many industries. Once the seminar concludes, attendees can enjoy further interaction at the post-conference networking and socialization hour from 4:30 to 5:30 pm. The summit is being held at the Hilton located within walking distance of downtown and only four miles from the Burlington International Airport.
Jonathan Goodman is a renowned speaker with a myriad of experience as a marketer and consultant. His company, Halyard Consulting, works with small and medium businesses focused on local clients to maximize their online presence and establish strong brand reputations.
About Halyard Consulting
Halyard Consulting is a New Jersey based Internet Marketing company focused on improving online results for businesses with geographically specific clientele. The company was established in 2007 to provide entrepreneurs with services allowing them to leverage online tactics often used by Fortune 500 companies. Gaining top ranking in the search engines is one of the most crucial aspects for Internet success. Small businesses used to rely solely on traditional marketing strategies like newspapers, commercials, and radio. Today, being visible online is the only true path to success.
About Jonathan Goodman
Jonathan Goodman is the founder of Halyard Consulting, an Internet marketing and public relations firm, located in New Jersey. Jonathan is the author of The World of Internet Marketing book series, written for small business owners, managers and others interested in cutting-edge marketing techniques. The first book in the series enables readers to take online marketing fundamentals and broaden revenue streams for their companies. Additional books to be released in 2015 will include critical information about YouTube marketing, Facebook advertising, and cloud computing.
Contacts:
Jonathan Goodman, President
Halyard Consulting
Phone: (800) 641-9157
Email: jgoodman(at)halyardconsulting(dot)com