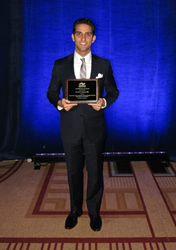 Los Angeles, CA (PRWEB) October 27, 2014
Los Angeles eyelid surgeon Dr. David B. Samimi, MD, was recently honored by the American Society of Ophthalmic Plastic and Reconstructive Surgery (ASOPRS) by receiving the 2014 Research Award. The award recognizes Dr. Samimi's achievements and contributions to the field, including his research study entitled "Microbiologic Trends and Biofilm Growth on Explanted Periorbital Biomaterials: A 30 year Review".
Dr. Samimi initiated the research project during his time training at the Bascom Palmer Eye Institute, the highest ranked ophthalmology residency in the U.S. The study documents organisms that cause difficult to treat infections of surgical implants around the eye, showing a large series with fungus and mycobacteria and correlating high-power images of the organisms growing together. The research investigated microbiologic trends and recalcitrant infections and the results concluded that numerous microorganisms are able to colonize biomaterials rooted in the orbit and lacrimal drainage system.
The ASOPRS research award is provided to one recipient each year for the most outstanding article published in ASOPRS' prestigious Ophthalmic Plastic and Reconstructive Surgery, the official journal of the organization. Dr. Samimi accepted his award on the podium in the presence of over 1000 ASOPRS attendees in Chicago.
Dr. Samimi is one of the nations new leaders in oculofacial plastic surgery and offers patient consultations in Santa Monica, Encino and Palm Desert. As an assistant professor at USC, he trains ophthalmology residents on advanced oculofacial plastic surgery techniques. He lectures at USC and offers workshops in facial surgery and treatment with botox. He has received various honors for his work in the field, including the Dean Mellinkoff Scholarship from UCLA, the Bascom Palmer Oculoplastics Award, and the first place research award at the Florida Society Research Symposium.
About Eyesthetica
Eyesthetica is among the largest centers for Oculofacial Plastic and Cosmetic Surgery services in California, with offices in Torrance, Santa Monica, Encino, Pasadena, Los Angeles, Valencia, and Palm Desert. The office is managed by four experienced doctors, Dr. Steven C. Dresner, MD, Michael A. Burnstine, MD, Melanie Ho Erb, MD, and David B. Samimi, MD. The center's specialties include cosmetic eyelid and facial surgery, laser surgery, reconstructive procedures, pediatric oculoplastic surgery, and botox. Patients can find additional information by calling the office at (213) 986-8789 or visiting the http://www.eyesthetica.com/ website.