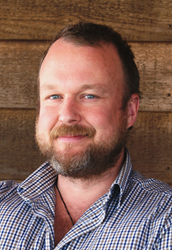 "If you haven't been here, then you need to come," exclaimed Innes, "You don't want to miss this wine and culinary experience."
Nelson, New Zealand (PRWEB) October 29, 2014
Woollaston at Mahana Cellar Door announces the arrival of its new chef, Jason Innes, who brings years of award-winning restaurant success and experience to his new post.
Innes, who was born in Canada, has lived most of his life in the South Island of New Zealand. His notable experience includes positions as the Executive Chef at leading New Zealand luxury wineries and lodges, such as Amisfield, Millbrook Resort and Country Club, and Grasmere Lodge. During his tenure at Amisfield, he was the winner of the NZ Cuisine Magazine's Winery Restaurant of the Year 2006 and 2007, and was a guest chef at The Royal Hong Kong Yacht Club.
Sourcing the best local seafood, meat, fresh vegetables, and herbs are the heart of Innes' passion for cooking, enabling him to deliver sumptuous, generous flavors with an abundance of skillful preparation. Under his direction, plans are underway for the herb and vegetable garden, which exemplify his farm-to-table concept for the Mahana Cellar Door. His goal is to enhance the five-star rated wine with exceptional food, establishing the Mahana Cellar Door as a renowned "destination" in New Zealand.
About Woollaston at Mahana
Woollaston at Mahana is a family owned, award-winning vineyard and winery located at Mahana in the Nelson/Tasman region of the South Island of New Zealand with a second vineyard at Burke's Bank just 20 minutes away. The vineyards and gravity-fed winery were certified organic in 2011. Producing Pinot Noir, Sauvignon Blanc, Pinot Gris, Riesling, Pinot Noir Rose, Chardonnay and Sparkling Wines, under the Mahana, Woollaston, and Tussock labels, the philosophy is to make wine naturally with biodynamic techniques. The wines are complemented with fresh, seasonal, and locally sourced cuisine at the Mahana Cellar Door. Located inside the Mahana Cellar Door, the Mahana Art Gallery features collectible art with multiple exhibitions throughout the year. Sitting at the apex of the 25-hectare Mahana Vineyard, is the Mahana House providing luxury accommodation, amenities and service alongside the most extensive private art collection on the South Island – also providing an unrivaled backdrop for weddings at the vineyard. Open daily 11:00 am to 4:30 pm. Check website for occasional closures due to weddings and events. For more information visit: http://www.woollaston.co.nz.
Media Contact:
Chandler Parker
NZ mobile +64 27 540 3689
USA mobile: + 1 949-870-5177
skype: chandlerparker
ceptravels(AT)yahoo.com
###