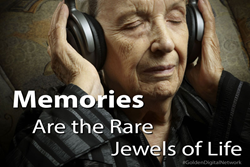 "The Golden Digital Network will help improve the quality of life for senior citizens so they can relive — not just remember — the cherished memories of their youth."
Dallas, Texas (PRWEB) October 28, 2014
At the golden age of 95 — soon to be 96 on November 11 — legendary Big Band and Jazz singer Louise Tobin, along with her son, Harry James, Jr., and long-time friend and producer Michael Kubiak, is getting ready to launch the Golden Digital Network, a free 24/7 streaming broadcast service for senior citizens.
Programming will meet the ever-changing needs of the baby boomer and senior market, and will feature the Top 40 songs by the original artists from 1930 – 1970, classic radio shows and commercials, popular TV shows and videos, celebrity interviews, and a store filled with music and memorabilia. The service will be delivered through the Golden Digital Network's website, mobile applications, Internet TV and other emerging technologies. These delivery methods will provide flexibility for seniors, and their families and caregivers, to choose how they want to enjoy the entertainment network.
According to Michael Kubiak, co-founder and president, "While the digital revolution of music and video delivery through the Internet has spawned an enormous range of choices, the Golden Digital Network is the only entertainment service offering a variety of audio and video programming designed and organized for the senior market. Since so many seniors live on fixed incomes, we believe it is important to launch our service for free."
Kubiak adds, "We discovered that donation-based crowdfunding was a better alternative than traditional financing. Due to the nature of our mission, we selected Indiegogo, one of the best crowdfunding platforms for cause-related community campaigns. Through crowdfunding, our goal is to raise US $295,000 within a 47-day period to fund our launch and the technology for our delivery systems. Once our fundraising is achieved, we plan to launch our service within the first quarter of 2015."
Co-founder Harry James, Jr., notes, "The Golden Digital Network has been in the making for a long time, as we kept hearing from friends and fans from all over the world that 'we just can't find the kind of entertainment that we grew up with anymore.' It has taken us years to accumulate our extensive library of the Top 40 formatted music pieces and original radio shows, and when combined with other historic collections of audio and visual segments, we are creating the ultimate entertainment experience for seniors."
"An important element of our business model is that rather than viewing the senior (born 1925 to 1945) and baby boomer (born 1946 to 1964) market as one big homogenous group, we segment the market to identify and meet specific needs," adds Kubiak. "For the healthy, active over-60s, living independently in their home or in a senior residence apartment community, we serve as a single resource where they can choose the music and memories of their youth. Residents in assisted living, short stay/respite and rehabilitation facilities rely on the facility for their entertainment. We will work with the owners and managers to deliver our entertainment network to their residents through various methods. For seniors diagnosed with dementia and Alzheimer's, whether living at home with their family or residing in a memory care facility, the medical field is discovering the revitalizing and healing power of music. Alive Inside is a new documentary that captures the amazing experiences of individuals who have been revitalized through listening to the music of their past. We will work with the medical field and the facility owners, managers and caregivers serving residents living with this horrific disease."
"Our Advisory Board, nationally-recognized individuals in the arenas of music, entertainment, medicine, academia and business, continues to grow, and we are thrilled to announce that Emmy Award–winning entertainer, actor, singer and radio host Peter Marshall is our most recent addition," remarks Kubiak. Through our personal relationships, we are reaching out to the legendary artists who actually made many of the Top 40 hits famous. We are inviting them to help us spread the word, and to participate in celebrity interviews, webcasts, and other content compiled by the Golden Digital Network."
As a privately-held Dallas, Texas–based company, Golden Digital Network is a digital media service dedicated to delivering a free entertainment experience for the senior market. For more information, visit GoldenDigitalNetwork.com. Follow us on Facebook, Twitter, LinkedIn, Pinterest and other popular social media channels.
###