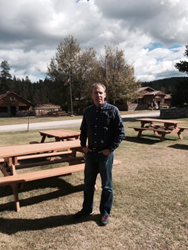 You can't cheat the trail.
Los Angeles, CA (PRWEB) October 28, 2014
Into the Heart of Addiction reveals their newest blog interview with Patrick Hawkins of Wilderness Treatment Center (WTC) shares his experience working with addicted youth in a wilderness setting. He reveals the benefits of the wilderness as a teacher and a true demonstration of "life on life's terms."
Wilderness Treatment Center is a primary treatment center located in Marion, Montana where young men 14 to 24 come to detox from drugs and alcohol and learn a new way to live, sober. Patrick Hawkins is the clinical director who is passionate about his role in demonstrating to these young men what a life steeped in integrity and giving back looks like.
Mr. Hawkins utilizes the foundation of Alcoholics Anonymous as a force for guiding these young men into manhood. WTC "provides them with the ability to experience a sense of purpose and a right of passage," says Patrick. To discover what makes Wilderness Treatment Center stand out among other wilderness programs read the article here.
Into the Heart of Addiction is the New Life House http://newlifehouse.com recovery community's resource for parents and families of substance abusing youth. Writers are recovered addicts and alcoholics, their parents and professionals, who supply the public with an in depth look at the reality of substance abuse and the family system. New Life House believes that change and recovery occur as a result of living in a peer-centered community where young people and parents are held accountable. "This is a process that cannot be side stepped; being accountable is essential and ultimately the saving grace for a drug addict," says New Life CEO Mike Joly.