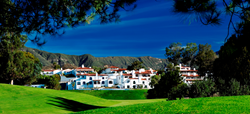 Ojai, Calif. (PRWEB) October 30, 2014
Inspired by the spirit of Thanksgiving, Ojai Valley Inn & Spa is partnering with the give-back company, This Bar Saves Lives, in a unique, charitable collaboration. During the month of November, the Inn is inviting guests to compose a note sharing what they are thankful for this year, and pin it to the resort's custom-designed "Giving Wall" emblazoned with "This Resort Saves Lives." In return, each guest is welcome to a complimentary all natural, gluten-free, non-GMO This Bar Saves Lives granola bar, which the Inn purchased to support an important cause: for every bar sold, This Bar Saves Lives donates a packet of life-saving food to a malnourished child in a developing country. At the end of November, the "Giving Wall" will be filled with a multitude of thoughtful messages that will also directly correlate to the feeding of children in need around the world.
"We are delighted to partner with This Bar Saves Lives on such a worthy cause, said Chris Kandziora, Director of Sales & Marketing, Ojai Valley Inn & Spa. "Our 'This Resort Saves Lives Giving Wall' offers guests the chance to step back from their busy lives and remember what they are thankful for, and at the same time help children in need."
Also throughout November, the resort will host an Instagram campaign inviting everyone to share what they are most grateful for – everything from Ojai's famous "Pink Moment" to good health and happiness. Prizes will be awarded to followers who comment, share and repost using the hashtag #OJAIGiveThnx.
Ojai Valley Inn & Spa is located an hour north of Los Angeles in the uniquely artistic and spiritually rich town of Ojai. Home to the award winning Spa Ojai, renowned Ojai Golf Course and world-class cuisine, and set within the dramatic backdrop of the Topa Topa Mountains, the resort is celebrated as a quintessential Southern California vacation destination.
About Ojai Valley Inn & Spa
Since 1923, vacationing guests have sought the tranquil pleasures of the historic Ojai Valley Inn & Spa, a AAA Five Diamond property located on 220-tree shaded acres, located just an hour and a half north of Los Angeles and half-hour south of Santa Barbara. Affirmed by its many prestigious awards, the legendary Inn is one of the nation's unique hidden treasures. For reservations call 800.422.6524 or visit http://www.ojairesort.com.
About This Bar Saves Lives
It's simple; for every bar you buy, This Bar Saves Lives gives a packet of life-saving food to a child in need. Since June of 2013, the company has sent over 300,000 packets of life-saving food to malnourished children all over the world; enough to help save the lives of over 2000 kids. Their all-natural, gluten-free, Fair Trade, Non GMO granola bars are sold nationwide in Whole Foods, Sprouts markets and many other locations. To learn more and find a store near you, please visit their website: http://www.thisbarsaveslives.com