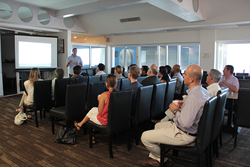 Our aim with this agreement is to benefit our members, our environment and our society in the medium and long terms, leading the way to change in the use of renewable energy
Cancún, Q.Roo (PRWEB) November 08, 2014
In recent days Sunset World Resorts & Vacation Experiences signed an agreement with MGM Innova Capital for the launching of an energy efficiency project in which energy use patterns will be analyzed throughout the company in order to locate and identify possible energy leaks which not only increases expenses but can also damage the environment.
This project aims to reduce energy waste to later implement sustainable energy systems taking full advantage of their performance. "We are proud to have signed this agreement with MGM Innova Capital LLC as it is a business with excellent results in energy efficiency, renewable energy and clean technology sectors as well as in innovation and sustainable management of natural resources," stated Orlando Arroyo, Sunset World`s Director General. "Our aim with this agreement is to benefit our members, our environment and our society in the medium and long terms, leading the way to change in the use of renewable energy," he added.
The project will have two stages: during the first stage experts in the measurement of energy consumption will analyze the properties in this chain of hotels in order to suggest improvements. During the second stage, the renewable energy systems will be put into action. "We are not only convinced that this is the right path, but also that there is no better option to make our planet a place where our children will be able to live," Orlando Arroyo concluded.
Always aiming to excel as a model of sustainable tourism, Sunset World has channeled its actions towards the rational use of resources, the preservation of ecosystems, the enforcement of good environmental practices, the creation of unforgettable experiences for its visitors and bolstering its social responsibility.