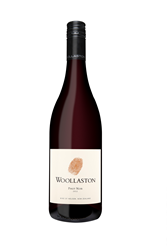 Nelson, New Zealand-October 30, 2014 (PRWEB) October 30, 2014
The latest vintages of Woollaston brand wine (2015) will feature a new label, simple and elegant, using a stylish Roman font against a creamy background to produce a timeless, classical look. The thumbprint on the label is symbolic of the belief that it takes a team of passionate people working together to create something truly special. Each member of the small, close-knit team leaves his or her individual mark on the wine.
With the addition of our winemaker Shane Munn in 2011, it became time to update the label to reflect his craftsmanship and the superior quality of the wine he has created. "The simplicity and organic feel of the new label reflects our philosophy," states Munn. "Wine labels are a bit like winemaking itself – if you have the right material to start with, less is more." The label retains the artisanal thumbprint of its predecessor, though on a smaller scale and in tones which echo the rich ochre of the famous Moutere clay soils.
The new label is being released in parallel with the re-opening in October of Woollaston at Mahana Cellar Door.
About Woollaston at Mahana
Woollaston at Mahana is a family owned, award-winning vineyard and winery located at Mahana in the Nelson/Tasman region of the South Island of New Zealand with a second vineyard at Burke's Bank just 20 minutes away. The vineyards and gravity-fed winery were certified organic in 2011. Producing Pinot Noir, Sauvignon Blanc, Pinot Gris, Riesling, Pinot Noir Rose, Chardonnay and Sparkling Wines, under the Mahana, Woollaston, and Tussock labels, the philosophy is to make wine naturally with biodynamic techniques. The wines are complemented with fresh, seasonal, and locally sourced cuisine at the Mahana Cellar Door. Located inside the Mahana Cellar Door, the Mahana Art Gallery features collectible art with multiple exhibitions throughout the year. Sitting at the apex of the 25-hectare Mahana Vineyard, is the Mahana House providing luxury accommodation, amenities and service alongside the most extensive private art collection on the South Island – also providing an unrivaled backdrop for weddings at the vineyard. Open daily 11:00 am to 4:30 pm. Check website for occasional closures due to weddings and events. For more information visit: http://www.woollaston.co.nz.
Media Contact:
Chandler Parker
NZ mobile +64 27 540 3689
USA mobile: + 1 949-870-5177
skype: chandlerparker
ceptravels(AT)yahoo.com