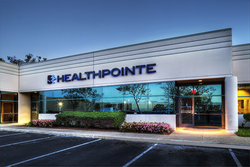 We are very excited to offer the same quality medical services in L.A. that our patients, and clients have come to expect from Healthpointe.
La Mirada, CA (PRWEB) October 27, 2014
Healthpointe, one of Southern California's leading multidisciplinary healthcare organizations is proud to announce the addition of a new Medical Center in Los Angeles, California. The brand new facility marks the 12th clinic for Healthpointe and is scheduled to open in late November.
The new Healthpointe Medical Center is conveniently located just east of the 405 Freeway at 6820 La Tijera Blvd., Suite 217 Los Angeles, CA 90045.
Along with all of the other Healthpointe facilities, the brand new La Tijera office is designed to provide an extensive variety of healthcare services that patients can receive all at a single, convenient location. Healthpointe's La Tijera office is furnished by state-of-the-art medical equipment and operated by a fully-trained staff. The Los Angeles community will be happy to know that various fellowship-trained and board-certified physicians and surgeons are prepared to support patients in their medical needs.
The La Tijera Medical Center will also provide expert treatments by renowned specialists and the same comprehensive services as other Healthpointe clinics. Healthpointe offers services such as orthopedic care, physical therapy, spine surgery, general surgery, internal medicine, psychology, pain management, and chiropractic care. In most cases, same day appointments are available.
"The addition of this new Healthpointe clinic into our existing 10 centers will allow us to broaden our reach in the city of Los Angeles and serve our patients, clients, and the community," said Executive Director of Physician Services and Case Management, Ernest Medina. "We are very excited to offer the same quality medical services in L.A. that our patients, and clients have come to expect from Healthpointe."
The Healthpointe La Tijera center will be open Monday through Friday, from 8 a.m. to 6 p.m. Insured as well as non-insured patients are also welcome. For additional information regarding Healthpointe's La Tijera center, please call (888) 755-4850.
About Healthpointe:
Healthpointe is a leading multidisciplinary healthcare organization offering a full range of medical services in practice throughout Southern California (Los Angeles, Orange, San Bernardino and Riverside counties). As a highly regarded musculoskeletal group, we have a personal investment in the highest level of service, and we are proud of our record of excellence over the last four decades with private patients, injured workers, urgent care, personal injuries, and professional and non-professional athletes. Leading the organization is a dynamic team of healthcare professionals who continually strive to be at the forefront of medical innovation and healthcare service delivery.