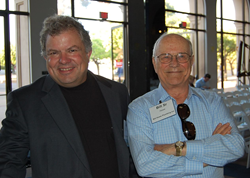 Mark singlehandedly sees to it that we remain at the top of all technology.
San Diego, CA (PRWEB) October 28, 2014
Bill Howe Plumbing has a distinguished history of offering high quality plumbing, heating and air conditioning, and restoration and flood services. For over 30 years, they have been industry leaders and set the precedence for service companies in their community. The San Diego plumber began the company with the mission to offer the highest quality services at affordable rates while creating a family culture in the local community. Part of the success has been an ever vigilant look towards future growth.
Bill Howe Sr. hired Mark Card in 1994 to head the technological advances in the company. Within three years, Mark had taken the company from paper operations to a fully integrated software developed with the San Diego plumber needs in mind. In 1994, the "dispatch board" was a literal cork-board where printouts were tacked in order. The technicians, approximately 15 of them, still carried pagers and responded to calls using payphones. The company was located at their second location, 1813 Morena Blvd., and still had yet to begin HVAC services or Restoration & Flood.
Mark has catapulted the company far beyond the early days and has worked tirelessly to stay one step ahead of technology. His anticipation of the growth of the company combined with the growing needs has allowed the San Diego plumber to streamline efforts without the disadvantage of downtime or technological "glitches."
In 2012, he facilitated the biggest move in the company's history, complete with a build out from the ground up. Mark was recognized for his efforts in 2013 by the San Diego Business Journal, when he was named IT Officer of the Year in San Diego medium sized business category. Looking to the future again, in 2014, the Bill Howe Family of Companies will move to a new software program, change to a cloud based storage system which requires a move to fiber optics. The new technology will allow for an improved customer experience, efficiency within the company and another decade of growth.
"Mark single-handedly sees to it that we remain at the top of all technology," said Tina Howe, Vice President of the Bill Howe Family of Companies. "He has, and is, been an integral part of our success for these past 20 years and we are excited to see him take us even further."
For more information about the San Diego plumbing company, visit http://www.billhowe.com, or to speak with Bill or Tina Howe regarding this announcement, contact Bill Howe Marketing Director, Julie Riddle at Julie(AT)billhowe.com.
About Bill Howe Family of Companies
Bill Howe Family of Companies is comprised of Bill Howe Plumbing, Inc.; Bill Howe Heating & Air Conditioning, Inc.; Bill Howe Restoration & Flood Services, Inc. The family-owned and operated company began in 1980 with the plumbing division and has grown into San Diego County's largest low-cost one-stop-shop for service, repairs and installation, offering both residential and commercial services. 9085 Aero Drive, Suite B, San Diego CA 92123. Call 1-800-BILL-HOWE because We Know Howe!
###