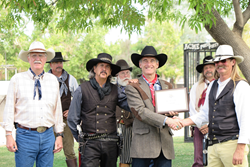 In celebration of his 80th Anniversary as an author recognizing his impact on preserving the legend of the American Cowboy through his many books and short stories.
Glendale, AZ (PRWEB) October 27, 2014
On hand for the presentation in recognition of L. Ron Hubbard's 80th anniversary as a professional writer, were Noah Chance, representative from the Association of Arizona Gunslingers, along with Dr. Buck Montgomery, director of the Wild Western Festival, Dakota Livesay, Publisher of Chronicle of the Old West and several members of the Posse, professional stuntmen who help out at the Wild Western Festival.
L. Ron Hubbard began his writing career in 1934 with the publication of "The Green God" a mystery thriller. His writing skills rapidly grew becoming a writing in all the popular genres of fiction. In addition to mystery, adventure, science fiction and fantasy, he also excelled in westerns having published 32 tales of the old west. He was presented the award due to the characterization and realism of the cowboy lifestyle portrayed in his stories. His western titles include "Branded Outlaw," "The Toughest Ranger," "Cattle King for a Day," "Death Waits at Sundown" and "Devil's Manhunt." (http://www.GalaxyPress.com)
In 2008, Galaxy Press embarked upon a six-year program to re-publish over 150 short stories and novelettes written by Mr. Hubbard in the 1930s and 1940s, in the form of an 80-volume book and full-cast "movie of the mind" audio drama series. These stories span every genre from western and mystery to fantasy and science fiction and can be found by going to http://www.GoldenAgeStories.com or http://www.GalaxyPress.com.