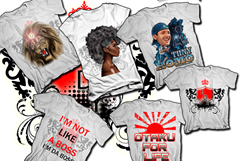 Our Artistry knows NO boundaries
Upper Marlboro, MD. (PRWEB) October 29, 2014
Custom Apparel company "EDY Customs" is taking their company to the next level with their new Kickstarter Project
EDY Customs is on a mission to become the custom apparel printing and custom artwork shop of choice. There are many custom apparel companies out there, but EDY Customs takes it to the next level. EDY Customs is a hybrid company that not only advertises its own brand, but takes it a bit further. EDY Customs has real talent behind the scenes and actually caters to specific customer niches as well by artistically making garments that cater to what clients want. So in essense, having a Niche t-shirt/apparel company, a full blown clothing line, and offering up custom artwork for others is EDY Customs' strategy. EDY Customs has gotten to the point where customers want custom apparel printing from all types of niches, so as the old saying goes: "Customer satisfaction is key to survival, so give customers what they want and they'll keep coming back."
Here is a short description of the types of custom apparel printing/services EDY Customs has:
1. Custom tees catering to 6+ niches (with custom artwork by request)
2. Embroidered and non-embroidered hats (comes in New era Hats, Beenies, Snakeskin, Cheetah, and more)
3. Outerwear (Especially for fall/winter seasons)
4. Training Gear (work-out clothing)
5. Custom artwork on accessories (wristbands, rings, mousepads, etc.)
6. Custom artwork for Posters, brands, stickers, Wall graphics, etc.