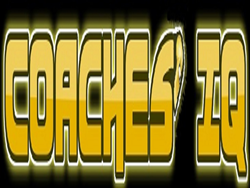 Coaches IQ is a fantasy sports game that places fans on the field or in the dugout, courtside or behind the bench.
Boston, MA (PRWEB) October 29, 2014
Coaches IQ, a patent pending sports media innovation of Imagine Sports Media LLC, has begun a Kickstarter crowdfunding campaign to launch a new sports media fantasy game online.
Coaches IQ is a fantasy sports game that places fans on the field or in the dugout, courtside or behind the bench. Fans will have the opportunity to speak out against or for the decisions made by their favorite coaches of their favorite teams and make the tough calls themselves.
Since the dawn of professional sports, fans have had a voice. Sports betting led to fans putting their money where their mouth is while they decided what they were sure was going to happen. Decades later, fantasy sports became that new outlet where fans could place athletes in their lineups as they decided who would have the biggest games.
Coaches IQ, a new real-time sports social media service, brings this concept to a new level. Fans can now have a voice during games about what decisions should be made. Instead of just guessing which players will have big games, an activity that is pure luck, fans will decide what should happen in-game before it happens.
The difference between Coaches IQ and other online sports prediction games is exponential. Instead of guessing what will happen, fans are saying what should happen. How big is this difference? It's the difference from right and wrong. If a fan guesses the New England Patriots will throw a pass and they throw an incompletion, that fan is correct. If the Patriots throw an incompletion after the fan said they SHOULD pass, then that fan is incorrect.
In 1951, Bill Veeck, the owner of the St. Louis Browns, had "grand stand managers" where fans held up "yes" or "no" cards to decide what should happen on the field. The Browns defeated the Philadelphia Athletics 5-3, and on that day, Coaches IQ was born. It's just that nobody knew it.
Today's world is bursting with input from fans with social media, blogs, and fantasy sports. Coaches IQ brings all of that together giving fans a voice like they have never had before; instead of just setting a lineup or yelling their opinion into the void of Twitter, fans and viewers can make an impact with their decision.
Coaches IQ will be a game that takes place on computers, laptops, phones and other mobile devices where fans log on and join a game. They can join a game in any sport and any level around the world and participate with fans just like themselves in deciding what is best for their team.
Based on the selections of the fan, their score will go higher or lower like a batting average would. Fans will have scores based on their current game, the sport they are playing and an all-time score. Professional managers and coaches will also have a ranking that will be maintained. This means that a fan might have a higher ranking than Bill Belichick or Greg Poppovich!
Along with raising a score for bragging rights, Coaches IQ has created a points system allowing fans to have the opportunity to gain points for their correct decisions. Points can accumulate or be lost based on the percentage of correct answers. There will be daily, weekly, and annual winners for the highest point-getters. Those with the highest totals will win sports tickets to local and national major sporting events, including the Super Bowl, World Series, Stanley Cup Finals, the NBA Championship, among other playoff and regular season events.
Imagine Sports Media LLC is a new and innovative sports media company aiming to change the way online users view the way their favorite sports are covered. Coaches IQ will be the host to an online media outlet with the latest news and information about coaching decisions and all about how to make the best decisions for your own game. Coverage will be very similar to how fantasy football experts give advice on setting lineups.
Coaches IQ was formed by sports fans frustrated with the lack of voice for fans like themselves in an online industry with too many voices to follow. Other innovations by Imagine Sports Media include the acclaimed lacrosse media outlet InLacrosseWeTrust.com led by Imagine Sports Media owner Marisa Ingemi, a professional sports journalist and blogger with experience covering professional lacrosse, baseball, and hockey.
Currently, Coaches IQ is aiming to launch in February 2015 in time for the National Football League's Super Bowl. Thereafter, fans will be able to play games involving the National Hockey League, National Basketball Association, Arena Football League, National Lacrosse League and College Basketball until Major League Baseball, Major League Soccer, Canadian Football League and Major League Lacrosse kicks off.
In order to launch on time, Imagine Sports Media is currently beginning a campaign on Kickstarter to raise money for Coaches IQ in order to acquire software development to make the best fan experience possible. This has become a need in the world of sports media and has been trending towards this direction for years, ever since the inception of social media.
Join the Coaches IQ Nation by donating to the page here and win cool prizes. In the meantime, check out CoachesIQ.com for news about decisions made by coaches and managers along with daily poll questions.
In 2015, Coaches IQ is here, and Coaches IQ is the future of sports media and social media.