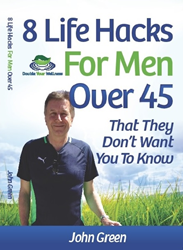 Losing weight, starting a diet, getting fit or sorting your relationship out can sometimes feel like having a mountain to climb can't it?
(PRWEB) November 04, 2014
The new Kindle eBook, '8 Life Hacks For Men Over 45 That They Don't Want You To Know' has just been released by Double Your Wellness founder, John Green. The eBook contains many of the insights and advice that members of the Double Your Wellness program enjoy as well as pages of content exclusive to the book. '8 Life Hacks For Men Over 45' is aimed at helping 45-75 year old men to improve fitness and diet, overcome stress and deal with things like redundancy, tax debt, and relationship issues.
John Green, Double Your Wellness Founder explains, "Losing weight, starting a diet, getting fit or sorting your relationship out can sometimes feel like having a mountain to climb can't it?
Well I felt just like that and somehow managed to climb that mountain and eventually get to the other side. On my way, mostly by trial and error, I found a lot of shortcuts and tips for those issues so I can now help and support others succeed too."
The eBook contains 116 pages and 8 chapters of straight-talking, actionable advice for men over 45 who need help to combat life's pressures. Each chapter focuses in on a range of key problem areas.
In his introduction to the book, John Green writes…
"If you read this book, and take action on the advice inside, I'm going to make you 8 promises. I promise you that you're going to…
1. Almost certainly extend your life by preventing yourself getting some unpleasant ailments if they affected your parents
2. Understand more about how vitamins can help you be healthier and which ones do what
3. Gain knowledge about nutrition which will improve your diet and as a consequence help you lose weight
4. Discover some exercise tricks which can both save you time and be more effective
5. Find out how some prescriptions medications can get your sex life back on track
6. Learn some grooming tips and tricks to help you look younger and healthier
7. Understand which plastic surgery procedures might help you look and feel younger
8. Learn about improving your relationships and, if you need it, get some dating guidance"
The Kindle eBook is priced at $4.99 (price varies slightly dependent on location) and is now available from Amazon. New members of the Double Your Wellness video training course will receive a free copy when they join.
Double Your Wellness is also offering a free 30 day trial for the video training course for a limited period. The trial includes access to all 45 videos for the 4 part, 6 week training program, as well as access to the online community.
More information about the Kindle eBook can be found here and the Double Your Wellness training course can be found here on the Double Your Wellness website.
About Double Your Wellness
Double Your Wellness is a 6 week online video course featuring advice on nutrition, exercise, money and motivation and sex and relationships from leading experts. The program has been specifically tailored to help men over 45 overcome a range of common but often debilitating mid-life problems.