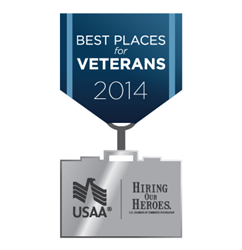 Early planning with this list...can alleviate some of the stress involved with transitioning back into civilian life.
San Antonio, Texas (PRWEB) October 28, 2014
Pittsburgh is the best place in the nation for veterans to pursue higher education and jump-start their transition into civilian careers, according to a new study commissioned by USAA and the U.S. Chamber of Commerce Foundation's Hiring Our Heroes program.
The 2014 "Best Places for Veterans: Starting Out" list identifies U.S. metro areas that offer more opportunities for veterans who want to use Post-9/11 G.I. Bill benefits, while also finding employment that aligns with military skills. The full Starting Out list includes:
1. Pittsburgh
2. Austin, Texas
3. Oklahoma City
4. San Antonio
5. St. Louis
6. Columbus, Ohio
7. State College, Pa.
8. Cincinnati
9. College Station, Texas
10. Minneapolis
"This study can help separating service members who are starting their education and careers find a place to live that offers them the most opportunity in both of those areas," said Eric Engquist, assistant vice president of military transitions at USAA. "Early planning with this list and USAA's other transition resources, such as the military separation checklist and assessment tool, can help alleviate some of the stress involved with transitioning back into civilian life."
"Our mission is to help the more than 1.5 million service members expected to leave the military find meaningful employment," said Eric Eversole, vice president at the U.S. Chamber of Commerce and executive director of Hiring Our Heroes. "This list identifies the top places for veterans to use their discipline and determination to succeed in civilian workplaces."
USAA, a leading financial services provider to the military community, and Hiring Our Heroes, a program of the U.S. Chamber of Commerce Foundation, commissioned Sperling's BestPlaces and the Institute for Veterans and Military Families at Syracuse University to create or provide data for this list. The four organizations worked together to determine measurable variables for 379 major U.S. metropolitan areas, which are defined as one or more central cities including the surrounding county or counties. The variables for the Starting Out list included:

G.I. Bill Enrollment
Presence of Colleges/Universities
U.S. News & World Report "Best Colleges for Veterans"
Certification/License Transfers
Unemployment Rate
Population Growth
Military Skills Jobs
Job Growth
Health Resources
Each of the variables was weighted and each metro area was then ranked based on its total points for all variables. Metro areas with the following attributes were excluded from the list: unemployment rate more than one percent above the national average, violent crime in the top two percentile, and median cost of living more than 10 percent above the national average. More information about this year's criteria can be found at usaa.com/bestplaces.
"Fifty-three percent of veterans reported their transition from military service as 'difficult' in a recent joint survey with Blue Star Families," said James Schmeling, managing director at the Institute for Veterans and Military Families. "Research like this can play a role in helping veterans plan for that transition and think about how to make the most of their benefits and skills."
USAA and Hiring Our Heroes also commissioned lists of the top metro areas for veterans who are transitioning to civilian life mid-career and after military retirement. To see the lists and access the Best Places for Veterans tool to create a personalized list of best places, visit usaa.com/bestplaces.
USAA is part of the U.S. Chamber of Commerce Hiring Our Heroes initiative established to help veterans find meaningful employment. Since 2006, USAA has hired more than 8,700 military veterans and spouses. USAA is also working to meet an internal goal that 30 percent of the organization's new hires be veterans or military spouses.
About USAA
The USAA family of companies provides insurance, banking, investments, retirement products and advice to 10.4 million current and former members of the U.S. military and their families. Known for its legendary commitment to its members, USAA is consistently recognized for outstanding service, employee well-being and financial strength. USAA membership is open to all who are serving our nation in the U.S. military or have received a discharge type of Honorable – and their eligible family members. Founded in 1922, USAA is headquartered in San Antonio. For more information about USAA, follow us on Facebook or Twitter (@USAA), or visit usaa.com.
About the U.S. Chamber of Commerce Foundation
The U.S. Chamber of Commerce Foundation (USCCF) is a 501(c)(3) nonprofit affiliate of the U.S. Chamber of Commerce dedicated to strengthening America's long-term competitiveness by addressing developments that affect this nation, its economy and the global business environment.
This list does not represent any endorsement, expressed or implied, by the Department of Defense or any other United States government agency.
The trademarks, logos and names of other companies, products and services are the property of their respective owners.
###