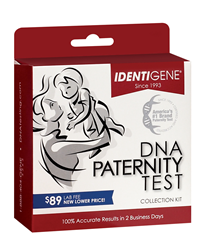 Salt Lake City, Utah (PRWEB) October 28, 2014
Identigene, America's #1 paternity test brand, announced today a new lower price for the Identigene DNA paternity test. Beginning October 2014, Identigene's lab processing fee decreased from $129 to $89. The DNA paternity test kit, sold in retail drugstores and supercenters nationwide, also has a new, lower suggested retail price of $24.99. The new total price for a DNA paternity test is less than $115 – a price reduction of almost 30%.
Identigene, providing direct access DNA paternity testing for over 20 years, first introduced its DNA paternity test kit in retail drugstores seven years ago making DNA paternity testing convenient and affordable for everyone. Advances in technology continue to make consumer DNA testing more affordable than ever before. Identigene provides a store locator at http://www.DNAtesting.com. A new package, reflecting the $89 lab fee, is being phased into stores. If customers purchase a box that still features the $129 lab fee, Identigene says not to worry. Effective immediately, the new $89 lab fee will be honored for all new DNA paternity test orders.
"We are thrilled to offer another first in a long line of pioneering efforts to make DNA testing more affordable and accessible to all everyone," said Identigene Chief Executive Officer, Douglas Fogg. In 1997, Identigene was the first company to offer direct-to-consumer DNA paternity testing via the internet. Fogg says, "Direct access means convenience at a lower price. Being the first brand in drugstores and supercenters meant that we could again redefine convenience and pricing and reach more families. Now, we're pleased to offer an even lower price."
For more information on the new pricing, or to learn about paternity testing or other types of DNA family relationship testing, visit DNAtesting.com.
About Identigene
Identigene is America's #1 brand for DNA paternity testing and is a global leader in the industry, providing personal and legal paternity tests and a variety of relationship testing for clients around the world. Identigene, the first company to bring DNA paternity testing to the general consumer through major drugstores and supercenters, is nationally and internationally accredited for both DNA paternity and molecular diagnostic testing services. Identigene is a privately-held, wholly-owned subsidiary of Sorenson Genomics, which is a highly accredited genetic laboratory renowned for its expertise in human identity, forensics DNA testing and population genetics.
Visit http://www.DNAtesting.com for industry-leading resources, including how-to videos, a store locator, customer reviews and more. Connect with Identigene on Facebook or follow us on Twitter at @Identigene.