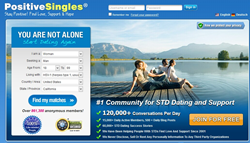 Los Angeles California (PRWEB) October 28, 2014
PositiveSingles.com has released the results of research into how many of their members are living with two or more STDs, and compared these with the same statistics from last year. The percentage of PositiveSingles.com members who suffer from more than one STD is consistent with last year, holding steady at about 14%. However, the total number of people in this category is up significantly.
PositiveSingles.com is the world's largest online STD dating site, designed specifically for people who are living with herpes, HPV, HIV, and other STDs. The company has a large database of members, and has analyzed how many of them have more than one STD. The 2014 data showed 14% of members with more than one STD, compared with 13.99% in 2013. Unfortunately, the actual number of people in this category is on the rise.
Another change is the percentage of those people who are based in the United States. For 2014, 82.66% of the people with more than one STD are in the US. In 2013, the same ratio was 85.29%, meaning that the US percentage has declined by 2.63%. About 80% of the members of PositiveSingles.com are located in the US, so the percentage of people who suffer from two or more STDs is moving closer to the overall percentage of members in the US.
Life can be difficult for people living with an STD, and having two or more STDs makes things even harder. Both people who currently have an STD and those who don't should be aware of the danger. As the world's largest herpes dating site, PositiveSingles.com wants everyone to be aware of the risks and precautions they should take, and it provides useful information to boost awareness.
About PositiveSingles
PositiveSingles.com is the largest worldwide online dating site which caters specifically to people with STDs. This site has helped people living with one or more STDs to find love for more than 13 years. Members use the site for herpes dating and finding dates with other STDs. Members also find that this site provides a warm, supportive community where they can get advice and make new friends. Members can create a free anonymous profile, and member data is never sold, rented or disclosed.