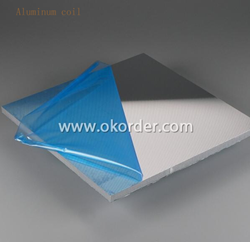 Beijing,China (PRWEB) October 30, 2014
OKorder.com is a Global Materials and Equipment Supplier, invested by CNBM International. CNBM International is part of CNBM Group - a Fortune 500 Company (2014 No. 274) and China's largest integrated building materials company.
OKorder.com has now taken the lead in becoming CNBM's online B2B e-commerce platform, providing a range of products and services to global businesses with four core values that differentiates OKorder.com from other e-commerce platforms.
The concept behind these core values lies in the requirements needed by global businesses today. These requirements are sourcing and getting the latest quotes on products, services and shipping costs in an instant in most categories by providing a streamlined value-added technological solution.
Part of the four core values is to become the Global Materials and Equipment Supplier, providing one-stop solutions to overseas buyers including but not limited to, comprehensive exports to worldwide marks, supply chain, financial services, trade training services, logistics services, credit insurance services - just to name a few.
CNBM International has more than 20 years in foreign trade experience and has established lasting business relations with clients in over 160 countries. OKorder currently have logistical warehouse service centers in the UAE, Papua New Guinea, Germany and Tanzania; with future plans on developing state-of-the-art logistical facilities in different regions around the world, in order to facilitate and provide the most cost-effective, efficient and faster delivery times on all orders.
As of 2014 OKorder have launched overseas warehouse projects to be built in Brazil, Chile, Russia, Myanmar, Indonesia, Vietnam, Saudi Arabia, Kuwait, Qatar, Oman and Bahrain.
After years of accumulation and development, OKorder.com has been established to be China's leading Global Materials and Equipment Supplier with a unique competitive advantage:
1. Through the integration of foreign trade supply chain resources, OKorder have made the entire trading process simple, transparent and efficient.
2. Backed by China Building Materials Group (CNBM) - giving us a competitive advantage with its brand awareness in the building materials and related industries.
3. Establishing a mature overseas network market in major countries around the world, allowing us in broadening our export channels utilizing regional warehouses. This enables OKorder to achieve large-scale procurement, logistics intensive and reducing the cost of international logistics.
4. With a wealth of experience in foreign trade and exports, brought together by a group of professionals trained in international trading, e-commerce solutions, supply chain management, financial accounting, logistics, warehousing, legal risk control, information technology and much more.
With its strong operational capacity, OKorder.com has developed the localization of international teams, independent research and development, all connected through it integrated cross-border online platform, OKorder.com.
More details about OKorder Global Materials and Equipment Supplier:http://www.okorder.com/about/corporate-information.html