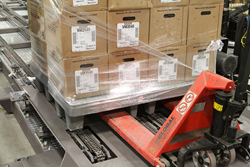 The drag chain design of the Lo-Pro is capable of moving delicate or fragile loads much better than conventional roller conveyors. — Peter Vilardi, Orion Marketing Manager
Alexandria, MN (PRWEB) October 28, 2014
Orion Packaging, powered by Pro Mach, will showcase at Pack Expo 2014, November 2-5 in Chicago, its low profile, heavy-duty, three-strand chain conveyor with a pass height of only four inches, allowing for convenient loading of multiple loads by either hand-powered pallet jacks or electric "walkies" equipped with long forks. (Orion Packaging Pack Expo Booth # N-5431)
The Lo-Pro™ is ideal for half-pallets, which the beverage delivery industry is beginning to embrace. The smaller pallets make handling easier within convenience stores. They are often preferred for direct store delivery, and the smaller pallet offers flexibility in building and locating in-store displays.
The new Lo-Pro conveyor gently moves pallet loads to an Orion MA rotary tower automatic stretch wrapping system for unitizing with stretch film. Production rates of up to 80 loads per hour are possible with this system.
The new Lo-Pro conveyor is ideal for beverage distribution and other facilities where multiple pallet loads are carried by one vehicle, increasing efficiency and productivity. The operator simply brings the load to the infeed zone of the conveyor then lowers it onto the chain drive. The machine's logic control then takes over staging the loads and conveying them one at a time into the wrapping zone of the stretch wrapper.
The Lo-Pro conveyor is engineered and built with high-grade components to withstand the constant use within a high-volume wrapping environment. The load capacity of the Lo-Pro is 4,000 pounds. A modular design allows customers to order the Lo-Pro conveyor in custom lengths to meet specific application requirements. A typical installation usually consists of up to 50 feet of infeed conveyor, 10 feet of conveyor in the wrap zone, and another 50 feet of exit conveyor. Approximately four loads can be staged for every 20 feet of conveyor.
"The drag chain design of the Lo-Pro is capable of moving delicate or fragile loads much better than conventional roller conveyors," says Orion's Marketing Manager Peter Vilardi. "The gentle handling causes less load damage and fewer displaced loads during the wrapping process. Our customers truly appreciate these advantages because of the cost savings realized."
AC motors are used throughout the conveyor system for low maintenance and excellent reliability. Cleanup around the conveyors is also much easier and faster compared to conventional roller conveyors.
For more information about the Lo-Pro conveyor, contact Orion at 800-333-6556, 320-852-7705 or visit http://www.OrionPackaging.com.
About Orion
Orion Packaging, powered by Pro Mach, provides its customers with durable and reliable stretch wrapping solutions that deliver industry leading pre-stretch capabilities and superior value. Orion offers a full product line of automatic and semi-automatic stretch wrapping solutions for almost any load containment need. Orion has been a leader in stretch wrapping technology and innovation for more than 30 years. For more information about Orion visit http://www.OrionPackaging.com.
About Pro Mach
Pro Mach is a leading provider of integrated packaging and processing products and solutions for food, beverage, consumer goods, pharmaceutical, and other diverse companies. Through its brands, Pro Mach provides product packaging and processing equipment, PMMI certified training, installation, parts, and service in Bottling & Capping, Primary Packaging, Flexible Packaging, Material Handling, Identification & Tracking, and End-of-Line Packaging.
Pro Mach has a diverse customer base, from Fortune 500 companies to smaller, privately-held businesses worldwide, which depend on reliable, flexible, technologically advanced equipment and integrated solution sets. Pro Mach is headquartered near Cincinnati, Ohio, with manufacturing facilities and offices throughout the United States, Canada, and Europe. For more information about Pro Mach, visit http://www.ProMachInc.com.