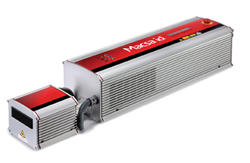 Fort Worth, TX (PRWEB) October 28, 2014
ID Technology - powered by Pro Mach, a leading provider of labeling, coding and marking solutions, has announced the new HDP Series of Lasers from Macsa ID. The HDP Series of lasers will be shown for the first time at Pack Expo International in ID Technology's booth; N-5406.
The HDP Series are powerful, high performance CO2 lasers. Delivering exceptionally high power density enables them to be effective in cutting and perforating flexible films and foils, as well as marking high-resolution images onto difficult to code substrates. This combination of cutting and coding makes HDP lasers appropriate for integration with form, fill and seal equipment where it is needed to both cut plastic film and apply lot code information to it.
HDP lasers are easy to install and integrate. They are fully network enabled and equipped with an on-board computer making an external PC unnecessary. They use Marca software to easily code precisely and consistently.
The new line of HDP lasers is perfect for the selective cutting and scoring of layers in the most complex plastic films and unlike mechanical dies, blades and punches, the laser suffers minimal wear as it does not come into physical contact with the product. The beam quality and focal distance of the lens also allows for a larger marking area while maintaining high quality, thin line characters.
ID Technology is the exclusive US source for the complete line of Macsa Lasers, including CO2, YAG and Fiber models. Along with the new HDP lasers, ID Technology will be showing its complete line of labeling, coding and marking solutions at Pack Expo International Booth N-5406.
About ID Technology
ID Technology designs, manufactures and integrates custom identification systems and is recognized as a leading single-source provider for labeling, coding and marking equipment, expertise, service and supplies. ID Technology is based in Fort Worth, Texas and operates 17 regional offices across the United States and Canada. For more information or to locate one of the ID Technology nationwide sales and service centers, call 888.438.3242 or visit our website at http://www.idtechnology.com.
ID Technology is powered by Pro Mach, a Cincinnati, Ohio based provider of integrated packaging and processing products and solutions for food, beverage, consumer goods, pharmaceutical, and other diverse companies. Through multiple brands, Pro Mach provides product packaging and processing equipment, PMMI certified training, installation, parts, and service in Bottling & Capping, Primary Packaging, Flexible Packaging, Material Handling, Identification & Tracking, and End of Line Packaging. For more information about Pro Mach visit http://www.ProMachInc.com.