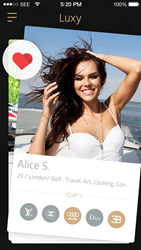 Los Angeles, California (PRWEB) October 28, 2014
Luxy CEO Tim T was recently visited by television host Jimmy Kimmel and how it went was released on YouTube. The video clip features Jimmy Kimmel punching Tim T in the face, which can be seen at https://www.youtube.com/watch?v=gT5gAWHsjQI.
Why did Tim get punched? Apparently, Jimmy, along with lots of people, disapproves of such a concept for a dating app. Luxy is a newly launched dating app that claims to be designed to appeal only to the top one percent of the population. The app made its appearance in Apple Store in May and in the Android market four months later.
Even though the concept of the dating app is thin, it has still gained worldwide popularity with around 100,000 active users at present. Its algorithm matches members based on their five favorite luxury brands.
While similar apps like Tinder take in all kinds of people, Luxy claims to be exclusively for those who are wealthy. A spokesperson for the app explained, "Our members drive the best cars, hang out at the fanciest hotels, live in the biggest houses, wear the best clothes. It doesn't take long to weed out those who belong on a different kind of dating site."
Members of the Luxy app include CEOs, investors, beauty queens, Hollywood celebrities, lawyers, doctors and professional athletes. Fitness models, millionaires and entrepreneurs can be found in the membership roles.
Luxy users must have a Facebook account for validation of identity. The app also looks for friend connections on Facebook, in order to provide the best possible matches.
To know more about this luxury dating app, visit its official website at http://www.onLuxy.com now. Or download the app on the App Sore or Google Play.