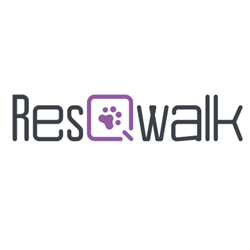 New York, NY (PRWEB) October 29, 2014
ResQwalk, a mobile app that allows animal lovers to raise money for rescue groups just by walking, has been optimized to include new features, and is now available for Android devices, in addition to iOS.
Each week ResQwalk announces a donation pool. In order for a rescue to receive a portion of that week's pool, their supporters simply need to start the ResQwalk app when they go for a walk or run. At the end of each week, donations are distributed to the rescues proportionally to the total distance walked by their supporters.
"Our vision is to give people a platform that enables them to easily integrate 'giving' into their daily routine. Often people don't have the time to foster a cat, the space to adopt a dog, or the time to volunteer. ResQwalk gives everyone the opportunity to help animals in need on a daily basis without disrupting their regular schedules," said Founder Bailey Schroeder.
Since launching on June 26th, ResQwalkers have walked over 236,000 miles and $38,600 have been donated to animal rescues across the United States and Canada. There are over 1,100 benefiting organizations on the ResQwalk app.
"Almost immediately upon launching our iOS app, there was an outcry for the Android version of the app. People everywhere wanted to participate, and that was extremely validating," said Schroeder. "Today we are excited to give Android users the opportunity to walk in support of homeless animals."
Both the iOS and Android ResQwalk apps now include a leaderboard that enables users to track how many miles have been walked in support of their favorite rescue throughout the week. "The leaderboard is a feature we've added to the app in response to user feedback," said Schroeder. "Instead of having users wait until Monday morning to see how their favorite rescue fared, now users can view their rescue's walking stats in real time. Our hope is that this bit of friendly competition will inspire people to walk even more than they're already walking."
ResQwalk's donation pools are funded by a combination of corporate sponsorship dollars and sales generated in the shop section of the app. BarkBuddy (a Bark & Co company) is the current corporate sponsor and deals from Coupaw.com, in combination with ResQthreads products, are powering the shop section of the app.
"Our hope is that with the launch of the Android app, the inclusion of additional features and initiatives, we can see significant growth in the miles walked, and funds earned, for rescues," commented Bailey Schroeder.