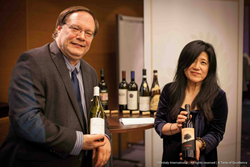 the great advantage with Italian wines is that they can amaze
Verona, Italy (PRWEB) October 28, 2014
"Since 1996, I have regularly attended Vinitaly because it is the only place where you can learn all about the enormity of wines available in Italy" says Kathrin Brunath, a German expert of Italian wines. "I really enjoyed this event. I think that Ian D'Agata and Stevie Kim instilled the great passion that is needed to broadcast Italian Wines. Moreover, they provided some interesting facts, so it was a highly fascinating event from the educational perspective too".
In general, the German market still smiles at Italian wines and the number of bottles sold remains positive: according to a research undertaken by Il Corriere Vinicolo, the import of Italian wines amounted to almost 60k litres only in the first quarter of 2014, a market share worth more than 150 thousand Euros. (SOURCE: Il Corriere Vinicolo, January-March 2014, http://tinyurl.com/pl9h972)
However, these numbers represent mainly lower-priced wines (more than 90% cost less than 5€/bottle), and they cannot stand a comparison with German wines. Nevertheless, according to Brunath, it will be possible to tip the scale in favour of more sophisticated Italian wines: "the great advantage with Italian wines is that they can amaze and the wines made from unknown native grapes that we tasted tonight are a good example. We need to continue this mission and educate the German consumers".
Renè Neukirch, a German importer, is on the same wavelength as Ms Brunath: "The German market is very curious, and therefore provides importers and distributors with the chance to present wines made of new native grape varieties. Hence, there is an important growth potential for Italian wines".
The Swiss market is just as important as the German one for Italian wines. Despite last year's slight decline in imports in favour of domestic labels, the Swiss consumer still prefers to drink imported wines, which represent more than two thirds of the total consumption. (SOURCE: CBI, 2013, http://tinyurl.com/p5a6mpt). However, thanks to the high standard of living, there are huge opportunities for top-of-the-range Italian wines. For the Swiss it is often not merely a question of money, as the Swiss importer Andreas Peter explains: "What I particularly search for is the 'extraordinary'. Quite often I'm looking for the small family producing company who pays great attention to the quality of wines. It's not about the quantity, it's not about the price, it's really about the passion: I seek producers who have passion for quality and who put this in their products".
The situation is a bit more complicated in Austria, where there is a growing interest in domestic wines. When asked about the problems faced by Italian wines in the Austrian market, Helmut Knall, a local wine-writer, replied that "all foreign wines that want to be imported in Austria face the same problem: the improvement in the quality of Austrian wines has generated what can be defined as 'patriotic drinking'. Consequently more than 85-87 % of consumers prefer to drink local wine. It's very hard to bring foreign labels into the market, but I think that, among the others, Italians always have a plus." This is confirmed by a recent research conducted by Euromonitor, according to which Italy is the first exporting country in Austria, and the sale of Italian wine continues to hold first place, while that of French wines for example isndeclining. "If the Italians concentrate their efforts on the autoctone grape varieties" says Mr. Knall "then I think they have good chances for growth in the Austrian market".
In conclusion, wines originating from Italian native grapes represent the real cornerstone in the building of a solid future for Italian wines in Germany, Switzerland and Austria. Sofia Biancolin, President of the Deutsch Sommelier Association (DE.S.A.), stresses this belief once more, agreeing on the importance of communication and education: "In German-speaking countries, Italians are strong thanks to these particular wines, and we have to communicate them and make them known." Therefore, by presenting wines made from Italian native grapes, "A taste of Excellence" hits the target, because "in these countries it is possible to taste wines coming from all over the world, and what the German, the Swiss and the Austrian look for is excellence, authenticity, history, and of course, the quality."
About:
Veronafiere is the leading organizer of trade shows in Italy including Vinitaly (http://www.vinitaly.com), the largest wine event in the world. The 48th edition of Vinitaly counted some 155,000 visitors (+6%) in four days of event, of which 56.000 were international attendees representing 36% of the total. On 100.000 square meters, 4.000 exhibitors welcomed trade professionals, media and producers alike. The next instalment of the fair will take place on 22 – 25 March 2015. The premier event to Vinitaly, OperaWine (http://www.vinitalyinternational.com) "Finest Italian Wines: 100 Great Producers," will unite international wine professionals on March 21st 2015 in the heart of Verona, offering them the unique opportunity to discover and taste the 100 best Italian wines, as selected by Wine Spectator. In 1998 Veronafiere also created Vinitaly International to develop a global platform for the promotion of Italian wine producers in foreign markets such as Russia, China, USA and Hong Kong.
# # #