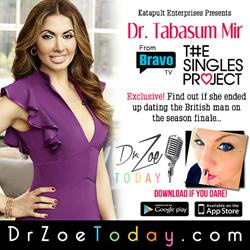 "My daily clientele as 'The Confidential Coach' consists of mostly high profile, prolific men, it's so refreshing to connect with another female who's a motivated powerhouse. " Dr. Zoe
New York, New York (PRWEB) October 28, 2014
Dr. Zoe Today, an inspirational, yet controversial weekly radio show that's aired every Wednesday night is pleased to announce that this time its guest is Dr. Tabasum Mir who is slated to drop exclusive information about the outcome of Bravo TV's The Single's Project and whether or not she ended up dating the British man from the season finale. The show is scheduled to air this Wednesday, October 29th at 9pm ET 8pm CT 6pm PT in the free "Dr. Zoe Today" app that's available in the App Store and Google Play.
Hosted by Dr. ZoeLena Shuster AKA Dr. Zoe, the show features renowned guests from sports, business, and entertainment industries. In this show they discuss controversial topics related to sex, love and relationships. Tabasum was not only a part of Bravo TV's The Singles Project, she is the Co-Founder of Minglrr, a matchmaking app with a focus on matching people with the same culture or religion. She also has a dermatological medical practice in the Soho area in NYC along with her own skin care line, MirSkin. Dr. Zoe, a multi-talented trendsetter in the business world, says of her guest, "Hit it off with this girl right away! My daily clientele as 'The Confidential Coach' consists of mostly high profile, prolific men, it's so refreshing to connect with another female who's a motivated powerhouse. Can totally relate to how difficult it is to find the right man while building an empire."
For more information, or to catch this show, simply visit: http://drzoetoday.com/
About Dr. Zoe Today
Dr. Zoe Today is a famous app / internet radio show that has become quite popular among fans worldwide due to its controversial theme where notable leaders from different industries come and share their views regarding love, sex and relationships. The show is hosted by Dr. Zoe who happens to be the Founder and President of Katapult Enterprises, a company offering ultra-exclusive services for the high profile lifestyle such as Confidential Coaching via a team of Celebrity Coaches.