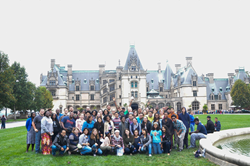 Our mission is to simplify travel and give people an experience that will enrich and inspire their lives. Every element of our clients' trips is hand-selected with their needs, preferences, and budget in mind.
Nashville, TN (PRWEB) October 28, 2014
The National Association for Music Education is holding their annual National In-Service Conference at The Gaylord Opryland Hotel in Nashville, TN October 26-29, 2014.
Teachers, choirs, bands, conductors and music lovers will gather to share their passion for music education. Music educators and performers alike will participate in educational sessions, network with musical groups from across the country, and perform for each other. Insouciance Abroad is proud to partner with NAfME and support not only this event but music education and travel as a form of education.
Insouciance Abroad is committed to the vision of each and every music student receiving the singularly life-changing experience of participating in a performance tour. Arranging travel is complicated; doing so with musical instruments and students requires a greater expertise and attention to detail.
Comprised of a team with roots in music and travel, we specialize in anticipating the nuances of your trip. The best part, we do it on your schedule, budget, with your goals and dreams as our priority!
For more information on our music trips please click here, email us or call us. We look forward to speaking with you about helping you provide the experience of travel.