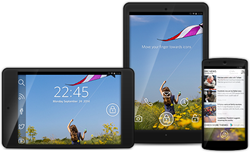 Start gives us opportunity to be able to provide our subscribers with a unique experience that shows our commitment to providing them high value
San Francisco, Calif. (PRWEB) October 28, 2014
Celltick, a global leader in Mobile Initiated Commerce, today announced its partnership with MTS, one of the world's largest telecommunications companies to launch an intelligent Android interface for users in Russia, based on Start. MTS Russia subscribers now get a custom interface on their Android phones, which allow them to get special offers and provides high value.
Celltick's Start is a next generation intelligent Android interface that provides rapid access to what matters most when users wake up their device. MTS users will get fast access to their favorite and recently used apps as well as a quick view into the most relevant news, their personal social media feeds, weather, web search and more. Start's recommendation engine uses big data and collaborative filtering techniques and adapts the start screen based on how users continue to use their device.
MTS will provide its users with a high value interface that allows them to personalize their Android smartphones to their liking and an intelligent startscreen. At the same time, while providing a means to effectively engage subscribers through the customer relationship lifecycle to encourage monetization and brand loyalty.
"We are committed to providing our subscribers with the best quality mobile experience utilizing the most innovative products and services on the best network. Start gives us opportunity to be able to provide our subscribers with a unique experience that shows our commitment to providing them high value" said Maksim Marasanov, head of Core based services department, MTS. "We are delighted to join forces with Celltick and utilize their years of experience in managing the user experience on the home screen".
'We are delighted to be chosen by a leading global operator like MTS Russia. We are focused on developing an intelligent, engaging interface that users love and value" said Ronen Daniel, CEO of Celltick. "By initiating Start across their Android devices, MTS is showing that they care about providing value to their subscribers and is creating an effective channel of communication. We look forward to working with MTS in delivering an enhanced Android experience to their subscribers".
The growing Start ecosystem has a variety of themes and plugins. In 2013, Celltick powered billions of mobile-initiated commerce transactions for virtual and physical goods serving more than 110 million active consumers across 25 countries
About MTS
Mobile TeleSystems OJSC ("MTS") is the leading telecommunications group in Russia, Eastern Europe and Central Asia, offering mobile and fixed voice, broadband, pay TV as well as content and entertainment services in one of the world's fastest growing regions. Including its subsidiaries, the Group services over 100 million mobile subscribers in Russia, Ukraine, Turkmenistan, Armenia and Belarus, a region that boasts a total population of more than 200 million. Since June 2000, MTS' Level 3 ADRs have been listed on the New York Stock Exchange (ticker symbol MBT). Additional information about the MTS Group can be found at http://www.mtsgsm.com.
About Celltick
Celltick is a global leader in mobile initiated commerce. Celltick's Start is a next generation personalized intelligent interface for Android devices. Celltick is unique in creating and managing mass market mobile marketing solutions for mobile operators, large media companies, device manufacturers and large brands. Celltick enables its partners to engage and monetize their users on the mobile. The company drives billions of transactions annually across more than 110 million active consumers across its different mobile platforms in over 25 countries. A rapidly growing company, Celltick has subsidiaries in Europe, Asia, South America and the U.S. For more information, visit http://www.celltick.com.
Press Contacts:
Celltick
Ramgopal Vidyanand/Shirit Flider
press(at)celltick(dot)com