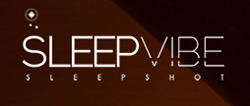 Using natural ingredients and a great taste, we help you get to sleep.
Houston, TX (PRWEB) October 28, 2014
According to statistics, more than 40 million people suffer with chronic sleeping disorders, with more than 70 million people suffering from insomnia and sleep apnea. But thanks to a new product called SleepVibe, there's now a quick and easy way to get a good night's sleep, naturally.
Thomas Jankas, vice president and spokesman for Sleep Vibe Inc., explained that SleepVibe is a two-ounce, natural liquid dietary supplement to help users sleep.
"Using natural ingredients and a great taste, we help you get to sleep," Jankas stressed, before adding, "Our quality ingredients is what makes our product so different from everything else on the market, but more specifically we use Aloe Vera to enhance our product beyond the competitors."
Aloe Vera, according to Jankas, has numerous benefits, "but more importantly, it's been found to make vitamins and other ingredients more absorbable by up to 200 percent, meaning our ingredients actually get into your body and do their job."
As to how the general public rates the company's product, Scott Clifton, a two-time Daytime Emmy Award Winner for Bold and Beautiful Star, gave it two thumbs up.
"I won't pretend my life or career requires a full night's rest more than anyone else's; it's essential for everyone," Clifton said. "But many of us would gladly endure a sleepless night to spare ourselves the side-effects pharmaceuticals or the hassle of lame gimmicks. Still, it feels like a lose, lose, and SleepVibe finally changed all that for me. My mind is my own worst enemy before bed—that constant internal chatter, running a mile a minute, keeping me stimulated. After a shot of SleepVibe, my brain begins to relax and let my body do what's natural: fall into a deep, peaceful, uninterrupted sleep. No morning grogginess, no side-effects, no artificial ingredients, and I even love the taste! Is SleepVibe a miracle? Hardly: it's just good science."
Joel Kehle, a Qualcomm Executive, agreed with Clifton's sentiments, saying, "Finally, a perfect way to fall asleep without a prescription. Thank you SleepVibe."
But they aren't the only ones to give the new product high praise.
Viviana Pollack, owner of Caffe Etc. in Hollywood, Calif., described the product as a God-send.
"My mom and I have had trouble sleeping all of our lives," Pollack said. "Sleep Vibe really helps us relax and fall asleep faster."
For more information, please visit: http://www.sleepvibe.com
About Sleep Vibe
Once upon a time, there were 2 men. With a large gap in age, completely different lives, and what appeared to be nothing in common, these 2 guys could not be more different. But things are not always how they appear. As fate would have it, both were stricken with a horrific curse: the unyielding "I never ever, ever sleep" curse.
With no relief in sight, and in their sleepless misery, the young athlete and the hard working middle-aged entrepreneur teamed up on a daunting quest to seek out the holy grail of restful sleep. Ok, ok, let's get serious. Sleep. We crave it. We love it. And most of all, we need it.
Unfortunately, most of us don't get enough, and a few poor souls hardly get any. Yes, that was us. And it is probably you. And for various reasons: stress, a high level of athletic training, grueling work schedules, jet lag, 4:30am mornings…add your own. You get the idea.
Contact Details:
Thomas Jankas
Vice President
Sleep Vibe Inc.
1021 Main St, Suite 1150
Houston TX 77002, USA
Tel: (800) 685-2090
Source: Sleep Vibe Inc.
###