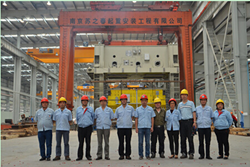 (PRWEB) November 01, 2014
Recently, the 3200T multi-station press at the second phase plan is successfully installed in FODAY Automobile Co.,Ltd, which signified that the company's overall strength has been improved to a great extent.
The 3200T multi-station press is an advanced stamping equipment; it is composed of great feeding units, unstacking institutions, anointment units, three-axis feeding systems and the output belts. Its six stations can work simultaneously, and its maximum speed can reach 25 strokes / min. In addition, the device has a Germany Herion wet clutch, which is integrated with safety locking emergency stop and can function by the slider at any position.
According to the company, this press machine is used to produce car bodies, spare parts, etc. It greatly enhances FODAY Auto's competitive strength. Moreover, the company's use of servo valve control, and the positioning accuracy + /-0.5mm German MOOG CNC hydraulic cushion, will greatly ensure its consistent production and improve the pass rate. This is why the company can always ensure product quality.
Guangdong FODAY Automobile Co.,LTD
http://www.fodayauto.com
FODAY Auto Wechat no: fodayauto
Email: fodayglobal(at)163(dot)com