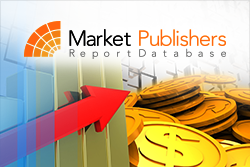 London, UK (PRWEB) October 28, 2014
Market Publishers Ltd is announced as a media partner the Tax Officers Summit 2014, taking place from 13th to 15th of November, 2014, in the City of Las Vegas, NV, the USA.
The Tax Officers Summit XVIII promises to be an ideal place for drawing decision makers and solution providers together for a discussion of major new drivers shaping the future of the tax industry. The globe's distinguished strategists, competent experts and trend-setters will gather in Las Vegas this November to deliver through-provoking keynote presentations, real life case studies and interactive sessions. Besides numerous networking opportunities, delegates and solution providers will be able to discuss their business priorities and preferences in pre-scheduled business meetings face to face in an intimate atmosphere.
Event Details:
The Tax Officers Summit 2014
Dates: November 13-15, 2014
Location: Red Rock Resort & Spa, Las Vegas, Nevada, the United States
http://marketpublishers.com/events/tax_officers_summit_2014.html
Major Themes for 2014 Encompass:

Corporate Tax Management – Sustaining longevity
Tax Automation – Via software and technology integration
Global Tax Planning– Investigating the worldwide marketplace
Corporate Tax Reform – Its impact on your tax climate
Tax Credits – How to capitalise on safely and efficiently
Transfer Pricing Policy – Developing a strategic plan for your tax division
International Tax Audits – What is the future of the U.S. federal and state systems
Stay SALT Ready - Actual status and community tax issues
Base Erosion and Profit Shifting - Minimising benefits of particular corporate entities
Benefit from networking with such industry professionals as:
Niraja Srinivasan, Executive Director, Tax Operations, Dell
Billy Beane, Oakland A's GM and Subject of Moneyball
Timothy C. Myers, Senior Tax Director at Pacific Life
Wayne Matteson, Global Tax Controller at GE Aviation
Chris Rosas, Senior Global Tax Director, Rackspace Hosting
Malcolm Harkins, VP and Chief Security and Chief Privacy Officer, Intel
And more.
Market Publishers' registered customers are eligible for special discounts.
To register at MarketPublishers.com please visit our Registration Page.