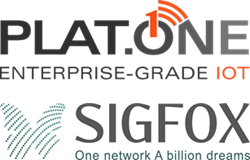 PLAT.ONE seamlessly integrates with SIGFOX to provide rich end-to-end solutions and security with a highly scalable and proven technology
GENOA, ITALY (PRWEB) October 28, 2014
The SIGFOX global IoT network, which is operating in several European countries and will begin deployment in the U.S. this year, is designed exclusively for two-way, small-message device communication. This eliminates the cost and energy-use barriers to wide adoption of the IoT and greatly extends the battery and service life of connected devices.
PLAT.ONE is the first complete, end-to-end IoT application platform, offering distributed application enablement, data management and device management, all "cloud-ready".
The combination of the SIGFOX network and PLAT.ONE's full-stack features enables the fast, secure and cost-effective implementation of Industrial IoT solutions. The combination also allows rapid development and deployment of large scale and mission critical applications, such as smart metering, security, smart cities, health, environmental and agriculture monitoring, asset tracking, equipment management and infrastructure control.
"Many companies want to take advantage of the Internet of Things and SIGFOX is developing partnerships that help accelerate and simplify adoption," said Stuart Lodge, SIGFOX executive vice president of global sales. "Our collaboration with PLAT.ONE will simplify the adoption process, leveraging our SIGFOX ReadyTM program to make it easy and convenient for companies to deliver business value enabled by our global network."
"The SIGFOX REST API set provides a concise yet scalable service interface. It provides a normalized integration pattern, abstracting the complexities of the underlying connected devices. PLAT.ONE seamlessly integrates with SIGFOX to provide rich applications, data management and end-to-end security to the end-user through a highly scalable and proven technology," said Filippo Murroni, CEO of PLAT.ONE.
About PLAT.ONE
PLAT.ONE is a renowned developer of enterprise-grade software and industrial solutions. Since its release in 2011, PLAT.ONE has established itself as the platform of choice for connected applications in major Telecoms, System Integrators and global industrial equipment companies. PLAT.ONE's distributed architecture, integrated development and deployment features, and native security and data-aware operations reduce application development time while providing Enterprise-Grade, non-stop operations. Businesses use PLAT.ONE to deploy innovative connected solutions ranging from smart equipment and transportation to smart cities and manufacturing. For more information, please visit our website at http://www.platone.io or follow us on Twitter at @PLATONEIoT.
About SIGFOX
SIGFOX is the only provider of dedicated cellular connectivity for the Internet of Things and Machine-to-Machine communications. The company's network complements existing high-bandwidth systems by providing economical, energy-efficient two-way transmission of small quantities of data, thus lowering barriers to wide implementation of IoT and M2M solutions, and greatly extending the battery and service life of connected devices. SIGFOX's global network is deployed through the SIGFOX Network Operator™ partnership program, with more than one million square kilometers already covered. The company is headquartered in Labège, France, and has offices in Mountain View, Calif., and Madrid, Spain. For more information, visit http://www.sigfox.com and follow them on Twitter @sigfox.
Contacts:
PLAT.ONE
Giorgio Murroni
+39 (010) 346 1059
giorgio.murroni(at)platone(dot)io
SIGFOX
Mahoney Lyle
Sarah-Lyle Dampoux
+33 (0) 6 74 93 23 47
sldampoux(at)mahoneylyle(dot)com