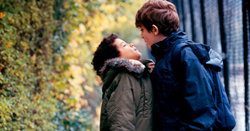 It is becoming common knowledge that every child will be subjected to at least one form of violence while growing up.
London, UK (PRWEB) October 29, 2014
In a world bombarded with all sort of violent actions and behaviors, parents are having a harder time every day when it comes to teaching children the importance of tolerance, acceptance and peace. NoBullying examines the effects of growing up in a violent world in an article released today.
Without understanding the nature of violence in today's world, people may struggle to get the right control over their life and this could easily them to more violence.
The more common types of violence affecting children and teens range from gang violence, video game violence, and domestic violence to physical violence and bullying. In other words, some children are facing violence at home, in school, on the street, on the internet, on TV and pretty much wherever they go.
Physical violence is not wrestling on the ground with one's father, nor is it two boys pulling at each other and having fun in the backyard. Physical violence is the use of physical force intentionally to cause harm to another. A simpler physical violence definition is interaction between two or more people where one intends to hurt another, bullying falls under this category, children are becoming physically violent towards each other in schoolyards everyday but incidents are brushed off as "boys will be boys" or "children's play".
The recent NFL domestic violence case points to another underlying form of violence which is violence against women. This is a topic that has been very sensitive for ages and still remains hidden from the media spotlight to a great extent; violence against women and sexual violence are truly the pink elephant in the room.
Video game violence is becoming more dominant in each new game released, while parental advisory labels are there, children are finding alternative ways to play these games behind their parents' backs or even under the supervision of well intentioned caregivers who believe these games are "just games" that mean no harm. But in a child's brain, what they see on that game is how life should be. So if they are using violence to "win" this game, they will use violence to win in every situation they come across in real life. To children, there are no lines between the virtual world and reality.
Ciaran Connolly, Co Founder of NoBullying says "While some people work hard on keeping their children safe from violence on TV or online, it is becoming common knowledge that every child will be subjected to at least one form of violence while growing up."
He added that parents and teachers should make a point to educate the younger generations about the sad outcome of bullying online. According to Connolly, it is quite imperative to press for more firm laws condemning all acts of cyber bullying and cyber harassment.
NoBullying.com features many pages dedicated to parents, teens, teachers, health professionals as well as posts related to cyber safety and the latest news about law making concerning curbing Bullying worldwide as well as inspirational Bullying Poems and famous Bullying Quotes.
The website regularly updates its bullying statistics and cyber bullying statistics as it is essential to understand how widespread the bullying epidemic is. It also regularly runs cyber bullying surveys and questionnaires to get recent updated statistics on everything related to cyberbullying.
He also added that anyone suffering from bullying in any form or way can always find advice and help on the NoBullying website – but if anyone is suffering from severe bullying or cyber bullying, the best thing is to talk to someone locally – a parent, teacher or local organization that has been set up to help with specialized councilors to deal with this topic.