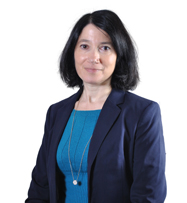 I am delighted to be part of a really knowledgeable team that is committed to helping clients with all types of community care issues.
London, United Kingdom (PRWEB UK) 28 October 2014
Legal 500 2014 "top-tier" law firm Duncan Lewis Solicitors are pleased to announce former Edwards Duthie Community Care Solicitor Monica Kreel has joined the firm. Monica has joined Duncan Lewis Solicitors as a Solicitor in the firm's Dalston Community Care department.
The Duncan Lewis Community Care department offers assistance to help access social care services for those who are not receiving the care they need. The firm are one of a limited number of firms across the UK that have been awarded with Legal Aid contracts to offer community care services in 14 offices across the UK for the next three years. The firm have secured contracts in 14 offices spanning the UK in the areas; London, the South, South West, East and West Midlands, Wales, Merseyside, North West, North East and Yorkshire & Humberside.
Monica joins Duncan Lewis from Edwards Duthie where she worked as a Paralegal and Trainee Solicitor, running her own caseload of Community Care and homelessness Public Law challenges. Monica brings with her experience in the full range of Community Care work, including services for disabled people, disabled facilities grants, accommodation and financial support for destitute migrants, asylum support, mental health aftercare, challenges to local authority policies and mental capacity law (including Lasting Power of Attorney applications). She is able to use her knowledge of discrimination law, human rights and Public Law principles to challenge everyday decisions made by public bodies on issues such as Community Care assessments or funding decisions.
Monica added in regards to her move to Duncan Lewis:
"I am delighted to be part of a really knowledgeable team that is committed to helping clients with all types of community care issues."
Monica has particular expertise in Public Law judicial review cases. She has issued many successful judicial review challenges to local authority decisions, enabling her clients to receive vital Community Care services, accommodation, or financial support. She has frequently gained emergency injunctions against public authorities in the High Court and County Court.
Monica has around 20 years of experience advocating for the rights of disabled people as a Caseworker, policy officer and investigator at several organisations including the Royal National Institute for Blind People, the Disability Rights Commission and the Equality and Human Rights Commission. She played a key role in implementing and enforcing the Disability Discrimination Act 1995 and the Equality Act 2010.
Monica is tenacious in her approach to public bodies, well informed about Community Care and Public Law, and helpful and sympathetic to clients.
About Duncan Lewis
Duncan Lewis, established in 1998, is the largest civil legal aid practice in the UK and one of the country's fastest growing firms of solicitors, serving both corporate entities and private individuals from offices across London and throughout the UK. A recommended leading law firm by Law Society Lexcel, Legal 500; Duncan Lewis employs over 500 members of staff and was the first law firm to achieve the Investors in People Gold Quality Standard Mark in 2009. Representing over 25,000 clients per year, the company has an excellent reputation in the Administrative Court, High Court and Court of Appeal in the Immigration, Public law and Family/Child Care jurisdictions.
Established areas of law are: business immigration, child care, civil liberties, clinical negligence, community care, crime and fraud, dispute resolution, debt and insolvency, employment, family and divorce, housing, asylum and immigration, Islamic law, litigation, mental health, personal injury, prison law, professional negligence, public law and administrative law, regulatory matters and welfare benefits.