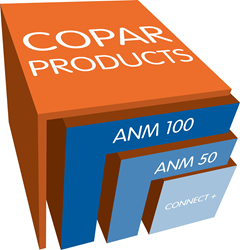 Our approach delivers the scalable and future-proofed Active Network Management products that are required for today's smart grid market.
(PRWEB UK) 29 October 2014
Smarter Grid Solutions specialises in Active Network Management - the technology that enables the integration of distributed and renewable energy resources, and manages their behaviour using real-time, autonomous and deterministic control. A huge increase in the number of energy resources, coupled with their variable nature, means the company's new Active Network Management products ANM 50 and CONNECT+ are a 'must-have' to manage multiple devices in a predictable and safe manner, and to maximise the use of latent grid hosting capacities, helping to defer or avoid costly grid upgrades.
The new ANM 50 and CONNECT+ products join the company's existing ANM 100 product, to form the COPAR family of Active Network Management solutions. They are designed to tackle different power systems problems and offer different entry points to an Active Network Management scheme, which can readily evolve and scale as the network develops.
The existing ANM 100 product manages thermal constraints, upper voltage limits and demand response. The new ANM 50 complements this functionality by managing voltage constraints and reverse power flows, and coordinates real power reductions for ANM 100 to resolve higher voltage thermal limits. CONNECT+ manages thermal or voltage constraints and maximises use of existing connections.
"Our products all share the same proven underlying technology components that uniquely combine to deliver real-time, deterministic and autonomous control. The combination of these three features is what differentiates us in the smart grid arena," said Alan Gooding, Commercial Director and Co-Founder at Smarter Grid Solutions. "We have designed the COPAR product family to complement each other or to work individually, depending on the customer's needs. ANM 100 can be configured to integrate with ANM 50 and or with individual CONNECT+ installations. Our approach delivers the scalable and future-proofed Active Network Management products that are required for today's smart grid market."
The company's Active Network Management products are delivering cost and reliability benefits to customers around the world. Their products have achieved impressive results - creating up to three times more grid capacity, achieving 200% more renewables contributions, and reducing grid integration costs by over 90%.
The underlying technology that powers the COPAR product suite is the result of years of research and development at one of the largest and most respected power systems and engineering universities in Europe, and in collaboration with utility companies and research institutes around the world.
About Smarter Grid Solutions
Smarter Grid Solutions delivers products and services that enable electricity distribution companies and utilities to integrate Distributed Energy Resources. The company provides world-leading Active Network Management products, and is the only provider to uniquely combine real-time, autonomous and deterministic control into its Active Network Management products. Its products are transforming the utilisation and resiliency of electricity networks, and managing connected customers at greatly reduced cost, without compromising safety and security. It supports customers worldwide from its offices in New York, London and Scotland.
The company was formed in 2008, originating from the world-renowned Institute for Energy and Environment at the University of Strathclyde, and it is Europe's leading vendor of DER integration solutions. It established its offices in Brooklyn, NY in 2013, and is now an active contributor to the development of the Smart Grid in many parts of the USA.