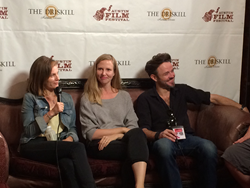 The haunting film, THE SIDEWAYS LIGHT, premiered this week at the Austin Film Festival and received an amazing reception.
New York, NY (PRWEB) October 30, 2014
The Sideways Light, an official selection of the prestigious Austin Film Festival premiered this week to rave reviews. Written and directed by Jennifer Harlow, the film stars award-winning actor Matthew Newton, Lindsay Burdge and Annalee Jefferies. The Sideways Light has also been selected for the Lone Star Film Festival.
The Sideways Light explores the story of Lily (Lindsay Burdge), a teacher who returns home to care for her ailing mother (Annalee Jefferies), who is suffering from dementia. As her mother's mind unravels, Lily struggles to understand her illness and the strange happenings in the house her family has called home for generations. Lily finds respite when she meets a local bartender (Matthew Newton) and the two fall for each other.
Matthew Newton is a critically acclaimed director, writer and actor who has worked extensively in his native Australia in the theater, on television and in film. His debut feature film as writer/director, Three Blind Mice, won the prestigious FIPRESCI critics prize at the London Film Festival and played around the world to rave reviews. Among his many career achievements, Matthew Newton is known for his lead role in Underbelly: A Tale of Two Cities, one of the most successful drama series in Australian television history.
.
# # #