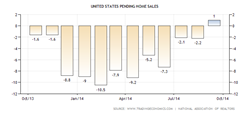 In the South sales increased 1.7% trending 1.7% above September 2013
Chicago, IL (PRWEB) October 28, 2014
Lenders like Peoples Home Equity were pleased to see pending home sales increase for the month of September. The monthly change also represent the first time pending home sales are positive on an annual basis since early 2013.
On October 27th, the National Association of Realtors released their latest pending home sale report showing a September increase of 0.3%. Some analysts regarded this report as disappointing, especially impressive existing home sale and mortgage application reports. However, Peoples Home Equity found the report uplifting given that sales were 1% above a year ago. A positive annual change in sales has not been recorded since early 2013. On a regional basis, pending home sales increased in the Northeast by 1.2% trending at 2.9% below last year. In the Midwest, where Peoples Home Equity centers most of its lending, sales decreased 1.2% and are trending 4% below last year. In the South sales increased 1.7% trending 1.7% above September 2013, and in the West sales also increase 0.8% at 3.6% above last year.
Lawrence Yun, chief economist for the National Association of Realtors said "moderating price growth and sustained inventory levels are keeping conditions favorable for buyers."
Even if individuals find a desired property in an unfavorable market "tight credit conditions continue to be a barrier for some buyers. Of the reasons for not closing a sale, about 15 percent of Realtors® in September reported having clients who could not obtain financing as the reason for not closing."
Peoples Home Equity strives to be different. The lender goes through a rigorous credit check to make sure everyone has a great chance of obtaining a home loan. Nothing is left unchecked; the lender truly finds every possible to way get its applicants approved.
If in need of a home loan, contact a Peoples Home Equity loan officer today at: 262-563-4026