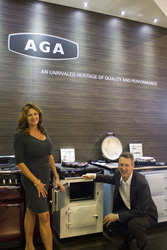 "The AGA City24 is a fantastic example that big things can come in small packages," Kathryn Ireland adds. "The small footprint allows you to simply trade out a standard cabinet rather than gutting the entire kitchen."
Santa Monica, Calif. (PRWEB) October 28, 2014
Alongside national AGA brand ambassador Kathryn M. Ireland, home appliance manufacturer AGA MARVEL made a foremost design statement with the unveiling of its new collections in AGA cooking and Marvel refrigeration at last week's WestEdge Design Fair.
The Slimmer AGA City24 Offers a New Category of Cast Iron Ranges
Combining classic cast iron radiant heat and iconic style, the new AGA City24 is a smart solution for compact living spaces. At just 24 inches wide and as many as 15 designer enamel color options, it easily accommodates kitchens with limited space and high standards.
"The AGA City24 is a fantastic example that big things can come in small packages," Kathryn Ireland adds. "The small footprint allows you to simply trade out a standard cabinet rather than gutting the entire kitchen."
Marvel Refrigeration Unveils the Largest Product Launch in Its 120-year History
The company also offered a sneak peek at their new Marvel premium undercounter refrigeration collections. The full line offers the market's best temperature stability, fastest cool down and the most integrated design options— and is now up to 40% more efficient than prior generations.
The company's chief executive William McGrath flew in from England to mark the momentous occasion.
"The new collections garnered much attention at WestEdge, from the ultra-efficient, ultra-sleek Marvel collection to the compact cast iron AGA City24 range," says McGrath. "Designers were thrilled to preview our new powerful and wonderfully dynamic cooking and refrigeration solutions, some never seen before on the marketplace."
About AGA MARVEL
AGA MARVEL is a North American subsidiary of AGA Rangemaster, a premier international consumer brands group that manufactures and distributes some of the best known and loved kitchen appliances and interiors furnishings in the world, including these prominent cooking and refrigeration brands among others.
AGA is considered by high-end consumers and cooking enthusiasts to be the world's best cooking experience. It's the number one cooking brand owners are most likely to recommend on account of its quality construction, flexibility and ultimate ease of use.
Luxury appliance consumers recognize Marvel as the industry leader that delivers more innovative food preservation and refrigeration solutions because Marvel is the benchmark for unrivaled craftsmanship, performance, and design.
Media Contacts:
Leah Clark
lclark(at)agamarvel(dot)com
(616) 619-5330
###