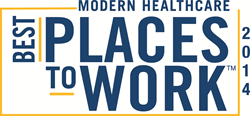 Our consultants are able to drive change and grow their careers doing it. This plays a big role in making Aspen Advisors a Best Place to Work - Daniel S. Herman, Founder and Managing Principal
Denver, CO (PRWEB) October 29, 2014
Aspen Advisors, a U.S.-based healthcare consulting firm, announced today that it ranked third overall, in Modern Healthcare's "Best Places to Work in Healthcare" for 2014. The publication also broke out supplier organizations separately from provider and payer organizations this year. Aspen ranked second among all suppliers and was the top consulting firm. This is the fourth consecutive year Aspen has made the list; last year the company ranked fourth overall. Modern Healthcare announced the 2014 rankings at an awards gala on October 23rd in Chicago.
Modern Healthcare's "Best Places to Work in Healthcare" program recognizes outstanding healthcare employers for creating workplaces that enable employees to perform at their optimum level. Results are directly based on responses to an employee engagement and satisfaction survey, which gauges overall satisfaction with benefits, culture, and employment practices. According to Modern Healthcare, the competition was fairly stiff this year as 271 organizations across the U.S. participated.
"It is a tremendous honor to be recognized as one of Modern Healthcare's Best Places to Work for a fourth consecutive year. To be ranked #3 overall, second in the supplier category, and the top consultancy is outstanding and something in which our associates take great pride", said Daniel S. Herman, Founder and Managing Principal, Aspen Advisors.
Herman continued, "The healthcare industry is experiencing great change, and we are proud to be working with many dynamic and influential industry leaders to make substantive improvements. Our consultants are able to drive change and grow their careers doing it. This plays a big role in making Aspen Advisors a Best Place to Work".
This recognition from Modern Healthcare is in addition to Aspen's other recent accolades. Aspen was also recently named one of Consulting magazine's "Best Small Firms to Work For 2014" and one of its "2014 Seven Small Jewels".
About Aspen Advisors
Aspen Advisors is a professional services firm with a rich mix of respected industry veterans and rising stars who are united by a commitment to excellence and ongoing dedication to healthcare. We work with healthcare organizations to optimize the value of their information technology investments. Our experienced team is highly skilled in all aspects of healthcare technology. We understand the complexities of healthcare operational processes, the vendor landscape, the political realities, and the importance of delivering projects successfully – the first time. Every client is important to us, and every project is critical to our reputation. Established in 2006, the firm has earned accolades for our culture, service delivery, and growth. Aspen Advisors was named among the top 20 in Modern Healthcare's "Best Places to Work in Healthcare" in 2011, 2012, 2013, and 2014 and earned several honors from Consulting magazine, including being named a "Best Firms to Work For" in 2012 and one of the "2014 Seven Small Jewels". Our hallmarks are top quality service and satisfied clients; we're proud of our KLAS rankings and that 100% of our clients are referenceable. We've consistently ranked highly in KLAS' "Best in KLAS Awards"; in 2012 and 2013, Aspen was among the top three firms in KLAS' Overall Services Firms Ranking.
Learn more at http://www.aspenadvisors.net. Follow Aspen on Twitter at http://www.twitter.com/AspenAdvisors.