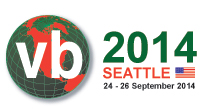 30 months of hard work at a record pace allowed Outpost antivirus solutions to reach and overcome the high industry standards.
St. Petersburg, Russia (PRWEB) October 29, 2014
Agnitum, the PC security expert and manufacturer of the Outpost range of security products, reveals its impressions of the latest VB conference. This conference is an annual event at which the brains of IT security from across the globe gather to share their ideas and keep the industry on the cutting edge.
Agnitum's virus lab joined the club of prominent AV vendors two-and-a-half years ago by inheriting and remodeling a third-party engine. 30 months of hard work at a record pace allowed Outpost antivirus solutions to reach and overcome the high industry standards.
Behind tangible results goes less visible yet no less significant social and networking activity. Agnitum's lab actively participates in sample exchange networks and contributes to the WildList (the list of the most widespread malware samples detected by security analysts). Agnitum has attended a host of security events in the last years, including CARO Workshop, AMTSO meetings and VB2012-2013 conferences.
At VB2014 earlier this year Agnitum team joined the list of exhibitors with a dedicated booth, gaining an opportunity to showcase their security strategies and boast their accomplishments on the data protection front. Agnitum sponsored a contest for security geeks and awarded the lucky winners with a GoPRO prize.
The event provided three days of learning opportunities and networking with industry experts.
VB2014 focused on the key themes:

Malware & botnets
Anti-malware tools & techniques
Mobile devices
Hacking & vulnerabilities
Spam & social networks
Network security
As before, Agnitum team seized on the opportunity to get new interesting insights and share their thoughts. Some of these ideas may impact further development of Outpost products, so loyal customers should keep their eye open for the updates.
Just before VB2014, Outpost team participated in the WildList Reporters Meeting, a closed event for The WildList Organization International members. Great format for exchanging antimalware data and planning for the future to keep ahead of cybercrime.
About Agnitum
Founded in 1999, Agnitum Ltd. (http://www.agnitum.com) has been committed to delivering and supporting high-quality, easy to use security software for 15 years. Agnitum's commercial solutions for the home market are Outpost Security Suite — an all-in-one Internet security solution, and the standalone Outpost Firewall Pro and Outpost Antivirus Pro, securing personal and family computers. Dedicated to global e-security, Agnitum also offers free versions of Outpost Firewall and Outpost Security Suite to secure users' system, network connections and critical data. Outpost Network Security ensures centrally-manageable endpoint protection and reliable performance for SMBs, and Outpost Antivirus Service provides antivirus protection via monthly subscription to ISP subscribers.
For more information and to request review copies of the latest Outpost Pro 9.1, please contact: