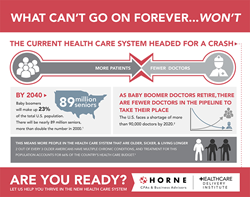 RIDGELAND, Miss. (PRWEB) October 29, 2014
HORNE LLP announced today the opening of registration for the 2015 winter session of Healthcare Delivery Institute's Advanced Training Program. With the current health care system headed for a crash and volume based fee-for-service on the way out, the ATP trains and prepares health care organizations for the future of health care delivery models.
"The path to improving patient outcomes and becoming a financially stable health care provider in the new reimbursement model is reducing variations in care," says Director of HORNE's Healthcare Delivery Institute Dr. Tommy Prewitt, Jr., as he refers to the replacement of the volume based fee-for-service model with the pay-for-performance model.
"The program opens your eyes to the coming changes in reimbursement, focuses on strategies to improve patient outcomes and demonstrates how to change culture to get clinical care teams working together to reduce variations in care," explains Associate Director of HORNE's Healthcare Delivery Institute Dr. Alexandra Brown.
The Advanced Training Program opened registration this week for its winter 2015 term. Details about the program, including exact dates and tuition fees are available at connect.horne-llp.com/hdiatp. Faculty includes local, regional, and national speakers with expertise in health care delivery, process improvement, data analytics, finance, clinical integration, leadership and technology.
For more information on what can't go on forever, check out this infographic.
HORNE is one of the top 50 accounting and business advisory firms in the country. With offices in Mississippi, Louisiana, Tennessee, Alabama and Texas, the firm focuses in health care, construction, financial institutions, franchise, government services, public and middle market and wealth advisory. For more information on HORNE LLP, visit http://www.hornellp.com.