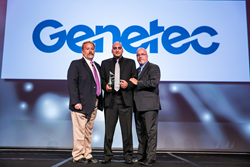 "We are honored to have won this distinction for the 3rd time," Morgan Pasnon, Senior Technology Alliance Manager, Genetec.
MONTREAL (PRWEB) October 28, 2014
Genetec™, a leading provider of unified IP security solutions was recently named the 2014 Application Development Partner (ADP) of the Year for North America by Axis Communications, the world leader in network video. A three time ADP of the Year Award recipient since 2010, Genetec was honored during the ninth annual Axis Channel Convergence Conference (ACCC) held in Miami, Fl. from September 7-11.
Axis Communications presented Genetec with the North American ADP of the Year award, given annually to recognize the success and loyalty of one Application Development Partner. Strategic partners since 2004, Axis and Genetec have grown their collaborative partnership beyond product integration to a fully realized co-development relationship. Together, the two companies innovate and deliver mutually beneficial video surveillance and access control products, training and marketing programs, and business opportunities designed to benefit their respective integrators, channel partners and enterprise-class end-users.
"Genetec continues to be committed to strengthening our collaborative business relationship," said Rob Muehlbauer, business development programs manager at Axis Communications. "They have worked closely with us to improve the integration of our technologies, including access control, and support our joint strategies to provide the strongest solutions for our integrator partners."
Genetec is a Global Partner in the Axis ADP Partner Program, which is designed to help ADP partners leverage Axis' technology and market-leading status to capitalize on the fast-growing network video surveillance and access control industry. As a channel-oriented company, Axis views partners as an extension of its team, playing a key role in the overall success of the company as well as the surveillance market's transition from analog CCTV to digital video.
"We are honored to have won this distinction for the third time, evidenced in our on-going innovative, entrepreneurial relationship to deliver world class integrations with Axis cameras and, most recently, the unique integration with our SV-32 network security appliance and the Axis A1001 network door controller," said Morgan Pasnon, Senior Technology Alliance Manager, Genetec. "We're excited to continue this global partnership to bring to market the most integrated, reliable and intelligent IP security solutions for our mutual customers."
ACCC is an annual gathering of Axis' top distributors, systems integrators, software development and strategic infrastructure partners throughout North America. This year's event drew more than 300 attendees who participated in educational workshops about IP-based surveillance technology, a review of the Axis product portfolio and future roadmap, and sessions that highlighted network video best practices and customer success stories.
About Genetec
Genetec develops open-platform software, hardware and cloud-based services for the physical security and public safety industry. Its flagship product, Security Center, unifies IP-based video surveillance, access control and license plate recognition (LPR) into one platform. A global innovator since 1997, Genetec is headquartered in Montreal, Canada, and serves enterprise and government organizations via an integrated network of resellers, integrators and consultants in over 80 countries. Genetec was founded on the principle of innovation and remains at the forefront of emerging technologies that unify physical security systems. For more information about Genetec, visit: http://www.genetec.com
--ends--
North America
Véronique Froment
Highrez PR
Email: veronique(at)highrezpr(dot)com
Tel: +1 603.537.9248
Mexico / Caribbean
Patricia Tawil—IDESA Ideas Estratégicas Aplicadas
Email: ptawil(at)idesa(dot)com
Tel: +52 555 109 05 94
Brazil
Luciane Bernardi—Capital Informação
Email: luciane(at)capitalinformacao(dot)com(dot)br
Tel: +55 11 3926-9517
Mob: +55 11 98 224-4404
EMEA/ UK
SAY Communications (UK)
Email: genetec(st)saycommunications(dot)co(dot)uk
Tel: +44 (0) 20 8971 6400
Meda Casunean (FR)
France/Italy/Portugal/Spain/ Middle East
Email: mcasunean(at)genetec(dot)com
Tel: +33 (0) 6 16 43 24 89
Scandinavia
Discus-Communications (Denmark)
Synne Eriksson
Email:s.eriksen(at)discus-communications(dot)dk
Tel: +45 33 38 43 08 Mob : +45 51 94 74 27
Asia Pacific
Jaime Li
Genetec PR
Email: jli(at)genetec(dot)com
Tel: +65 6334.75.38
© 2014 Genetec. All rights reserved. The names of actual companies and products mentioned herein may be the trademarks of their respective owners.