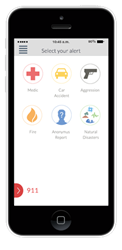 "The way people report emergencies has been the same for over 75 years, we are here to change that"
NY, NY (PRWEB) October 31, 2014
Securify is the fastest and easiest way to alert authorities about any given emergency; with our innovative Intelligent Quick Response System (IQRS), users can now report emergencies in a matter of seconds. Personal Security just a tap away.
People cannot rely on yesterday's technology while reporting today's emergencies. Securify is an application that allows users to notify authorities immediately about their location, type of emergency, services required (firefighters, ambulance, police), emergency contacts and user general information (Name, Age, Gender, Phone Number, Allergies, Diseases), all in under 5 seconds, and just a tap away. Securify understands that every emergency has to be treated differently, so all this information is necessary to provide a better and more effective service.
Securify provides its users with unique features, which enables them to communicate to authorities everything there is to know to keep them safe.
Unique features:

Users can send Real Time photographic evidence of the events
Users can send Real Time voice note recordings in order to communicate the state of emergency
Look at Real Time information on the progress of attention of their alert
Users can enable a 1 minute silent recording that is automatically delivered to our agents
Live calling support from one of our specialized agents
Because with Securify, it's not just about saving time. It's about saving you.
Release Date:
Securify is now working in Mexico, and will be available in the United States in November 6, 2014.
Because we are celebrating our release in the US we have a special promotion. To learn more, go to: http://www.securifyapp.com
For additional tips and information don't forget to visit our fan pages
Twitter: http://www.twitter.com/securifyapp
Facebook: http://www.facebook.com/securifyapp
Google +: https://plus.google.com/+Securifyapp2014/